No one is having fun paying their taxes. That's just not how this works. But, thankfully, you can ease your anxiety and frustration with a healthy dose of free food (which may or may not itself be healthy) this Tax Day -- Tuesday, April 17. Perhaps to help ease the impending dent in your bank account, or (if you're lucky) to help celebrate your tax return windfall, several major chains are offering free or super-cheap food deals for the occasion. 
You can get your hands on everything from free sandwiches to deeply discounted pizzas, if you know where to go and what to order. That's why we put together a running list of all of the best places where you'll find free and cheap food to help you survive Tax Day 2018. After all, pizza makes everything better. You got this.
Recommended Video
This Giant Egg Is The Size Of 18 Regular Eggs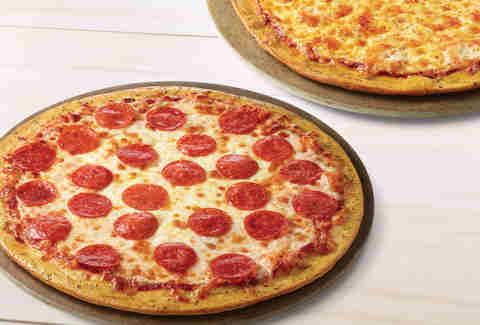 Tax Day Free Food
Hardee's
The deal: Making tax season a little less painful, Hardee's is offering a free breakfast. Pick up a free sausage biscuit from 7am to 10am on Tax Day with the passphrase "made from scratch."
When: April 17
Potbelly Sandwich Shop
The deal: Sign up for the sandwich shop's app and you'll be awarded a free sandwich. (At least, until the shop has given away 75,000 sandwiches for the day.) If you're already signed up, you'll get a buy-one-get-one-free coupon in the app. 
When: April 17
Chuck E. Cheese
The deal: Grab a large cheese pizza, get a large pizza for free. That's the best deal you'll find at a restaurant featuring a mouse-fronted animatronic band. 
When: April 17
Piada Italian Street Food
The deal: All 42 Piada locations will be dishing out a free giant blackberry lemonade with any purchase all day.
When: April 17
Schlotzsky's
The deal: Forget about your 1099s with a free small original sandwich with the purchase of chips and a medium drink.
When: April 17
Firehouse Subs
The deal: Use this coupon to grab a free medium sub when you buy full-price medium or large sub with chips and a drink.
When: April 17-19
Kona Ice
The deal: The purveyor of frozen treats wants you to "chill out" on a frustrating day. It's giving out a free Kona Ice to flustered citizens at its many locations.
When: April 17
Great American Cookies
The deal: This one is easy. Swing by one and you'll get a free cookies-and-cream cookie. 
When: April 17
Burger Fi
The deal: With any purchase, you can pick up a free order of hand-cut fries. 
When: April 17
California Tortilla
The deal: Though it doesn't have as many locations as many on this list, California Tortilla is offering free queso and chips. The only thing you have to give them is a little dignity by saying the cheesy password "Chippin' In" at the counter.
When: April 17
Hot Dog on a Stick
The deal: What might Hot Dog on a Stick possibly offer as a freebie for Tax Day? How about a hot dog on a stick? Though, it's limited to turkey and veggie dogs. 
When: April 17
Tax Day Food Deals
Applebee's
The deal: All month long your friendly neighborhood Applebee's is offering $1 margaritas. 
When: April
Hungry Howie's
The deal: Buy a one-topping large pizza and get a one-topping medium pizza for 15 cents.
When: April 15-17
Sonic
The deal: Everyone is getting half-priced cheeseburgers for Tax Day. No coupon required. 
When: April 17
Wendy's
The deal: It's not a Tax Day-specific deal, but in the Wendy's app you'll dig up buy-one-get-one-free Dave's Single burgers and chicken sandwiches. 
When: Ongoing
Wienerschnitzel
The deal: The hot dog hub doesn't have a specific Tax Day deal going on, but its ongoing list of deals includes some alluring deals like $1.99 for a chili dog and small fries. 
When: Ongoing
Baskin Robbins
The deal: If you download the ice cream shop's mobile app, you'll find a few deals to ease your tax burden, including $2 off a large Cappuccino Blast and buy-one-get-one-free $0.99 ice cream cones. 
When: April 14-30
White Castle
The deal: Get 15% off an in-store purchase. Good news if doing your taxes makes you want to eat a case of small burgers. 
When: April 13-17
Bruegger's Bagels
The deal: The Big Bagel Bundle -- 13 bagels and two tubs of cream cheese -- is on sale for just $10.50 to help get your brain functioning properly as you attempt to do your taxes at the last possible moment. To take advantage, you'll need to bring in a coupon that will be available on the bagel shop's website.
When: April 11-17
Farmer Boys
The deal:  The California and Nevada-based chain is offering two breakfast burritos or two bell ringer double cheeseburgers for $10.40. No coupon required.
When: April 17
Sonny's BBQ
The deal: The BBQ joint will be offering up it's cleverly named "irresistible rib special" (IRS, get it?). At all 112 locations, you can get half-price Sweet and Smokey or House Dry-Rubbed Dinners with two "sidekicks" and homemade bread.
When:  April 17
Pizza Hut
The deal: Although it's not specifically related to Tax Day, the pizza mega-chain is offering a deal for 50% off all online pizza orders.
When: Through April 22
QDOBA Mexican Eats
The deal: Earn 1,040 (get it?) bonus points when you purchase an entree. 
When: April 17
Grimaldi's Pizzeria
The deal: You can get a 16" traditional cheese pizza for $10.40 while supplies last.
When: April 17
P.F. Chang's
The deal: Order takeout and get 15% off with the code "TAXDAY."
When: April 16-17
More Deals?
If you know of Tax Day freebies and deals we missed, email us at news@thrillist.com and we'll add 'em here. 
Sign up here for our daily Thrillist email, and get your fix of the best in food/drink/fun.