Speed Skating Suit Crotches Are Getting Ridiculed, But There's a Reason For the Design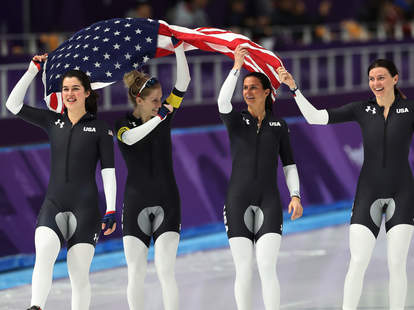 Ian MacNicol/Getty Images
Team USA's Olympic speed skating uniforms have raised some eyebrows. The inner-thigh area of the uniform is a large gray circle, which is, you know, basically highlighting the athlete's crotch.
Viewers have had a little trouble understanding why the uniforms have this particular design, uh, feature. It turns out, the gray oval wasn't as much an aesthetic choice as a decision aimed at improving athlete performance. Under Armour, the company that designed the suits, outfitted that area with what it calls "ArmourGlide," reports Yahoo! Sports.
It's a slick material that reduces friction, and, in speed skating, the athletes are looking for every little advantage they can gain. The new design is in part a reaction to the 2014 Olympics when the suits were given partial blame for the US not taking home a speed skating medal for the first time in 30 years. In fact, the team ditched their suits halfway through the Games.
"The contrasting material in the inner thigh (friction guards) has been commonplace for speed skate skins for decades, to reduce friction," Under Armour told InStyle in a statement. "The 2014 UA skin had one panel instead of two, but in testing the new skin, the addition of a second panel reduced friction even more—by 60 percent."
Why the color? UA had an answer for that as well. "We tested a multitude of friction guard materials to find the material that reduces friction the most. Altering the color or using a material that comes in a different color would have rendered it considerably less effective," the company said. Though, it didn't address why that color isn't just spread across a larger area of the suit.
So, there's a good explanation for the crotch situation, but that hasn't stopped people from feeling like it looks pretty weird.
Uniform designer 1: Our new uniforms need to reflect the elegant and strong aesthetic of speed skating.

Uniform designer 2: And highlight the crotch.

Uniform designer 1: duh of course. Gotta pull the eye right there! pic.twitter.com/BEpWBB2xLN

— sarah_haskins (@sarah_haskins) February 8, 2018
Who in the hell designed the @TeamUSA speed skating suit? And worse yet-who decided "those look good, they really accentuate the crotch!"

— Ryan Stelter (@stelter78) February 15, 2018
Y'all I'm assuming there is a point to the way the speed skating uniforms are designed, but maaaan that's a weird place to put a light-colored circle.

— Christina Stephens ✨ (@CEStephens) February 19, 2018
Ok, I'm really not understanding the US speed skating uniforms - the light gray on the crotch & inner thighs has me like - what? 🤨

— Michele Wandke (@MicheleWandke) February 19, 2018
Dear whoever designed the #teamusa women's speed skating outfits w/ white legs & gray crotch - not good. Keep the legs one color in 2022. Maybe consult @Adaripp for styling advise.

— Carli (@Carli379) February 18, 2018
If fans get what they want, Adam Rippon will be a skater, NBC commentator, and speed skating suit designer in 2022.
US skaters Heather Bergsma and Brittany Bowe earned a bronze medal Thursday in team pursuit. It's the first medal for US women's speed skating since Jennifer Rodriguez won bronze in the 1500m back in 2002.
h/t Yahoo! Sports
Sign up here for our daily Thrillist email, and get your fix of the best in food/drink/fun.
Dustin Nelson is a News Writer with Thrillist. He holds a Guinness World Record but has never met the fingernail lady. Follow him @dlukenelson.