Burger Joint Forced to Close After Video Showed Teen Chefs Grilling a Rat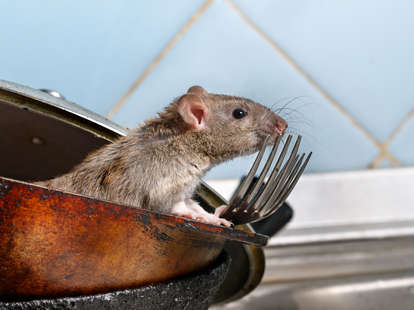 shutterstock.com
shutterstock.com
While there is certainly no shortage of disgusting fast food horrorstories from recent years, an incident involving a rat and teen employees at a popular burger joint in Honolulu, Hawaii may very well go down as the grossest you've seen in a while. If you're ready, here's the gist of it: Teddy's Bigger Burgers was forced to shut down after a video surfaced online of two employees getting "creative" in the kitchen, grilling a rat.
According to a report by WBRZ, the footage was posted via Snapchat by one of the two young men involved and, as you may have imagined, the company isn't thrilled. The video leak resulted in both employees' firing and the temporary closure of that particular Teddy's Bigger Burgers location. We're just going to assume a few appetites were lost as a result of the video as well.
In a statement, Richard Stula, the chain's president said he and the company were appalled by the apparent rat grilling incident. The Teddy's Bigger Burgers location will undergo a "complete sanitization," and both equipment and utensils -- specifically those involved in the impromptu rodent barbecue -- will be replaced. Teddy's has also launched a thorough investigation.
"We are horrified that a former teenage employee would conduct themselves in that way and make such a video of which we are investigating its authenticity," Stula told the media. "We will then send a corporate team in to inspect and complete a thorough audit of the location before it is allowed to re-open."
Additionally, the company is considering taking legal action against the employees. In perhaps the most Hawaiian statement ever issued, Stula accused them of "trying to destroy our reputation without regard for our 20-plus years of quality and aloha."
The Hawaiian Department of Health (DOH) is scheduled to visit the Mapunapuna Street Teddy's Bigger Burgers on Friday, per a report by WBRZ. A licensed pest control company has been called in as well in the hopes of ridding the restaurant of any other rodents that may be lingering within, waiting to tempt another employee.
"DOH appreciates the remedial and proactive efforts undertaken by the restaurant owner to protect public health," Peter Oshiro, the state's environmental health program manager, said. Teddy's Bigger Burgers in Honolulu, Hawaii received a passing green placard after its most recent inspection in June. It's unclear why the teen chefs, whose identities remain undisclosed, thought grilling a rat was a good idea. They have said nothing of their actions or whether they intend to continue to pursue cooking... but we certainly hope not.
The video of the rat-cooking incident is available on YouTube, if you're into that sort of thing.
Sign up here for our daily Thrillist email and subscribe here for our YouTube channel to get your fix of the best in food/drink/fun.

Caitlyn Hitt is Daria IRL. Don't take our word for it -- find her on Twitter @nyltiaccc.