A 'Teenage Mutant Ninja Turtles' Pizza Cookbook Is a Real Thing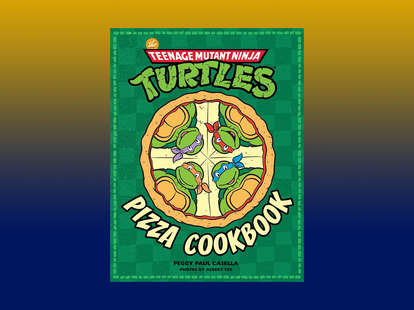 Insight Editions
Insight Editions
The only thing better than cheap slices of insanely huge pizza? Homemade slices of pizza designed by insanely huge, ninja-trained, anthropomorphic turtles, obviously. That's what The Teenage Mutant Ninja Turtles Pizza Cookbook promises anyway. Its 65 recipes will siphon the Turtles' love for everyone's favorite delicacy into meals you could actually eat. Rather than dive deep into the cowabunga(!) indulgences of the characters' inhuman taste buds however, this cookbook will keep things tame. No "peanut butter, avocado and extra pickles" pizzas or "guacamole marshmallow" pizzas to speak of here.
Instead, the book, written by Peggy Paul Casella with photos by Albert Yee, will feature more classic recipes with a TMNT-twist -- like a pineapple-and-ham pizza called "The Sewer Surfer" and a bacon-and-egg "Breakfast Pie" that offers alternatives to "Lighten it up, dude!"
It chases the heels and crushingly obvious movie tie-in merch money of Adventure Time: The Official Cookbook and The Bob's Burgers Burger Book: Real Recipes for Joke Burgers. We should point out that TMNT tie-ins specifically mean big business: from the original comic books, to several animated series since the 1980s, to the original films, to the Michael Bay reboot blockbusters with their insane special effects of the Turtles' pants, to this crazy $10 AirBnB, to freakin' latte art, and even a porn parody. The cookbook, the latest in this long tradition of TMNT cash-ins, lands on the shelves May 9 and is available for pre-order now on Amazon, but -- again -- we'll still have to wait for the Turtles' craziest recipes.
I guess Michaelangelo said it best in the 1980s animated series: "Face it, bud, peanut butter and clams is an acquired taste."
Eric Vilas-Boas is a writer and editor at Thrillist who loves pizza and cartoons.