The Golden Gate Bridge is a sprawling national landmark that stretches for 8,981 ft across the San Francisco Bay. It also happens to be a highly dangerous playground for thrill-seeking teens and their head-mounted GoPros. Teen daredevils from Wisconsin, Peter Teatime and Tommy Rector, climbed the massive bridge during their spring break last month, filming the escapade and doing what any enterprising millennial would do: uploading the footage to the internet for our twisted pleasure (complete with a bumping techno soundtrack).
The video sees the duo mug hard for the camera, taking selfies, performing somersaults and literally hanging off the top of the structure like garbage fluttering in the wind. It's an act of brazen foolishness, and it went completely undetected by authorities. Peter Teatime spoke to an ABC affiliate about the stunt, explaining that the duo scaled the bridge by walking up its suspension cables, which stretch to the ground.
ABC presented the footage to a former FBI agent, who called the lapse in security "a wake-up call...it allows you to look over the entire security plan for the bridge." According to Bridge District General Manager Denis Mulligan, the boys, who approached the bridge after parking their car off to the side of the road, "didn't trigger the alarms" because of their stealthy ascent.
Recommended Video
Thrillist's Best (and the Rest): Traveling With a Partner vs. Traveling in a Big Group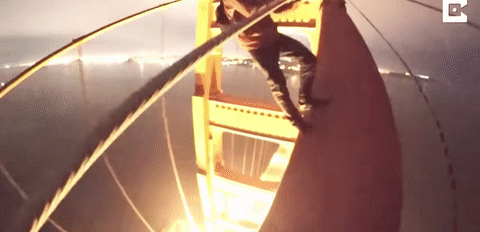 Naturally, it's a bit alarming for San Francisco officials, who have long grappled with security protocol on the Golden Gate Bridge. "The teens managed to spend 10 minutes on the bridge protected by a multi-million-dollar security system approved by Homeland Security," Golden Gate Bridge, Highway and Transportation District spokeswoman Priya Clemens told CBS.
While they may have thwarted advanced security systems by sheer luck, the boys clearly aren't criminal masterminds. They face misdemeanor trespassing charges and a possible one year jail sentence.
With the possibility of criminal prosecution looming, it probably wouldn't be a bad thing for the midwestern teens to heed the very grim possibilities of such activity. Not that they'll listen, or anything.
Sign up here for our daily Thrillist email, and get your fix of the best in food/drink/fun.