This Dream Job Will Send You to Sweden and Pay You to Ski All Day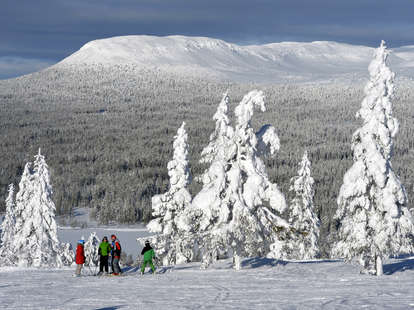 Courtesy Tenson
Courtesy Tenson
Skiing is one of those hobbies with a frustratingly pricey barrier to entry. Gear's expensive, and so are lift tickets, and schlepping to and from a mountain can make it feel like you're hemorrhaging cash just to have fun for a day. But what if instead of dropping tons of money to get that downhill thrill you could actually get paid to go on a crazy ski vacation? That's the idea behind a new dream job from the folks at sports gear brand Tenson, who're currently on the hunt for average skiers to test out their gear during a once-in-a-lifetime trip to Sweden, all while earning $30 an hour.
Tenson, which has been making everything from bike caps and tennis garb to outerwear and ski helmets since 1951, just announced that it's looking to hire two people to come give its gear a thorough testing on the ski mountains of Sweden. What's more, they're specifically not looking for pros, but rather people who'd consider themselves "somewhat mediocre" with a "tendency to fall." In other words, ski enthusiasts who actually suck at skiing are encouraged to apply.
The gig, which includes round-trip travel from wherever you live to Sweden's Idre fjäll mountain, will involve you essentially testing out and giving feedback on Tenson's latest equipment at one of Scandinavia's biggest resorts for four days while earning $30 an hour. Beyond that, you'll be wined and dined ("we've got a lot more to offer than meatballs"), and staying in a cabin steps from the mountain. Plus, you'll get a set of Tenson gear to keep forever, receive eight hours of private lessons, and even get to bring a friend along for the whole adventure, all expenses paid.
As for the type of testing you'll be doing, it's fairly vague. However, they're clearly looking for someone without a ton of skill.
"The Tenson product development department needs first-hand intel on how our ski gear can, for instance, withstand a 50 meter long tumble against an icy slope, going all in (and beyond) on the after-ski party and getting caught in the t-bar ski lift," reads an excerpt from the job description. "We believe that the successful candidate for the job has a test-and-learn mentality, never got a compliment for their riding style and thrives in a fast-paced environment."
If you think you have the thoroughly average skills they're looking for, fill out the online application before February 11 and hope for the best.
You got this.

Sign up here for our daily Thrillist email and subscribe here for our YouTube channel to get your fix of the best in food/drink/fun.