Man Gets Testicle Stuck in Ikea Chair, Then Complains to Ikea
<a href="http://www.shutterstock.com/gallery-1464035p1.html?cr=00&pl=edit-00">Tooykrub</a> / Shutterstock
This gets unpleasant pretty fast. Claus Jørstad, a 45-year-old man in Norway, has no sympathy for how hard a time you had putting together that Ikea couch. He's had a much worse time with Ikea furniture this week. 
Jørstad got a testicle stuck in the small holes on the seat of the company's Marius chair. He doesn't appear to feel too embarrassed about the situation either, as he decided to complain publicly about the incident on the Ikea Norway Facebook page.
Screengrab Facebook | Ikea Norge
According to a translation from The Daily Dot, Jørstad says he was giving himself a clean on the chair in the shower when he noticed bath time had gone south. He was stuck, he told Ikea, referring to his genitals as the "skipper and two boatmen."
"Sitting there and noticing the accident," Jørstad writes, "I bent down to see what the f*ck happened, I realized the little nutter has got stuck. The water turned cold by itself. So I started freezing. The water got cold. Even more cold than my mother-in-law's smile when I married her daughter," said Jørstad.
It appears the steamy shower caused things to expand, and once the water went cold, nature corrected course and despite an elevated heart rate for a couple of minutes, Jørstad would seem to be no worse for the wear.
Not without a sense of humor, Ikea Norway responded, "Hey Claus. We recommend that you take the stool out of the shower... if you choose to keep it in the shower, make sure you are well dressed for your next sea excursion."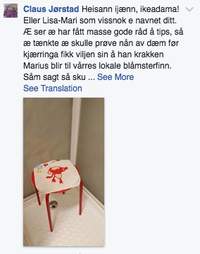 Screengrab Facebook | Ikea Norge
Jørstad responded with a photo of the holes covered with what he termed a "weinermonkey." Necessity and invention and all that.
He later posted a photo of the stool elsewhere in the house with a rather phallic cactus on it and asked if the stool came in yellow. The cactus did not appear to be having any issues keeping itself free of the stool's holes despite the absence of Jørstad's weinermonkey.
Screengrab Facebook | Ikea Norge
Sign up here for our daily Thrillist email, and get your fix of the best in food/drink/fun.
Dustin Nelson is a News Writer with Thrillist. He holds a Guinness World Record, but has never met the fingernail lady. He's written for Sports Illustrated, Men's Journal, The Rumpus, and other digital wonderlands. Follow him @dlukenelson.