Tom Brady Still Can't Find His Jersey From The Super Bowl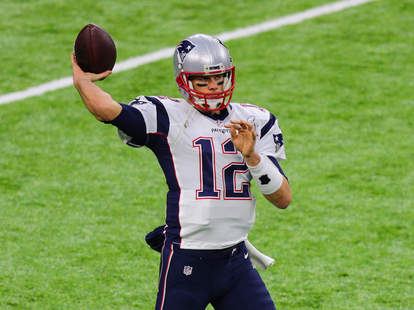 Tom Brady is good at throwing the footballs. He is less good, however, at keeping track of his very valuable belongings.
After leading his New England Patriots to a historic comeback victory against the Atlanta Falcons in Super Bowl 51 on Sunday night, the pretty-eyed quarterback lost his game-winning jersey -- a garment with some serious football cache attached to it.
As people searched for his jersey after the game at Houston's NRG Stadium, Brady was pretty transparent that losing it was a bad thing. He told reporters: "This is not good...It was right here and now I don't have it. Not good."
But Texas authorities don't take missing football jerseys for granted, not on their watch. Dan Patrick, lieutenant governor of Texas, summoned the Texas rangers to work with the Houston police to find Brady's missing jersey.
"In Texas we place a very high value on hospitality and football. Tom Brady's jersey has great historical value and is already being called the most valuable NFL collectible ever. It will likely go into the Hall of Fame one day," he said in a statement on Monday.
"I'm a Texans and Cowboys fan first, but the unquestionable success of the Super Bowl in Houston last night was a big win for our entire state and I don't want anything to mar that victory. Whoever took this jersey should turn it in. The Texas rangers are on the trail."
If Brady didn't really lose his jersey, it's likely some super-fan purloined it from the super-star's gym bag, stuffed it in his underpants, and caught the next flight up to Boston where he's slept with it under his pillow since Sunday.
Or maybe Brady just forgot where he was, and lost track of the same shirt he wears every week. In any case, his explanation on Monday sounded reminiscent of a 13-year-old who misplaced a science project: "I put it in the bag, and I came out and it wasn't there any more," he said.
No charges have been filed against any potential suspects, and the NFL has been in touch with police in Houston.
Your move, eBay.
[h/t The Guardian]
Sign up here for our daily Thrillist email, and get your fix of the best in food/drink/fun.
Sam Blum stole Tom Brady's jersey and he's going to burn it in the middle of Fenway, just to see what happens. Follow him @Blumnessmonster.