Here's How to Throw a Thai Dinner Party for Under $30
Are you low on cash but still want to party like a baller? Well, we're here to help. Welcome to
$30 Dinner Party
, Thrillist's brand-new series created to help people just like you throw killer dinner parties for very little money. Join host Lee Kalpakis as she creates special recipes for you to wow your friends and family on the cheap with new episodes every Monday at 2pm ET on Thrillist's YouTube channel.
When making dinner for your friends, it might be tempting to play it safe and stick to the hits: something simple and invariably delicious like nachos or tacos.  But life rewards risk-takers, so consider something a little more ambitious. Prepping Thai food may seem intimidating relative to sprinkling shredded cheese on tortilla chips, but these dishes are also incredibly delicious and satisfying, and we know you can pull it off -- we'll even help you do it on the cheap.
In a new episode of Thrillist's series $30 Dinner Party, host Lee Kalpakis meets up with Ben Ratner. Ben has a reputation as a picky eater, so he's both trying to prove that he's capable of hosting a dinner party and that "he's making an active effort to eat like a regular human." Lee and special guest chef Justin Warner, who also hosts Thrillist's Snack Talk, have just the plan for him: chicken satay, veggie summer rolls, peanut dipping sauce, and pad see Ben (a riff on pad see ew), plus peanut butter coconut cookies for dessert. 
Watch as Lee, Justin, and Ben plot out the meal, shop for all the ingredients, cook each dish step-by-step together, and finally, serve a Thai feast to his roommates. The homemade meal is a hit and everyone at the table is thoroughly impressed as Ben manages to not only eat something beyond broccoli, but cook an entire feast. Plus the whole meal cost less than $30, with a grand total of just $29.91. So Lee and Will achieved their two goals: They threw an amazing Thai dinner party and Ben proved that he can eat like a "regular human being."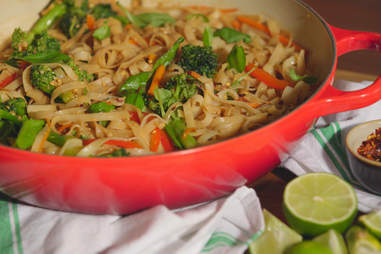 Thrillist Video
Grocery list with prices
1 head romaine lettuce -- $1.50
1 large carrot -- $0.80
1 red pepper -- $0.60
1 bunch fresh mint -- $1.00
1 bunch fresh Thai basil -- $1.00 
1 12-ounce package rice paper wraps -- $1.79
2 limes -- $.50
1 jar peanut butter -- $2.59
1 bag sweetened shredded coconut -- $1.29
1 pound dried rice stick noodles -- $1.49
½ dozen eggs -- $1.69
1 head of broccoli -- $1.89
1 jar oyster sauce -- $.99
1 inch ginger -- $.80
1 jar turmeric -- $2
1 bottle fish sauce -- $1.89
2 boneless, skinless chicken breasts -- $5.30
1 (14-ounce) package tofu -- $1.50
1 bottle soy sauce -- $1.29
Total price: $29.91
Pantry staples you'll need
Salt
Pepper
Oils
Vinegar
Garlic
Cayenne
Garlic powder
Oregano
Paprika
Ketchup
Hot sauce
Flour
Sugar
Butter
Baking powder
Baking soda
Vanilla
Cinnamon
Red pepper flakes
Thrillist Video
Chicken satay
INGREDIENTS:
2 cloves garlic, grated
1 tablespoon grated ginger
1 tablespoon fish sauce
2 tablespoon soy sauce
Juice of ½ a lime
1 teaspoon turmeric
1 teaspoon salt
4 tablespoons vegetable oil
10-12 wooden skewers, soaked in water
2 boneless, skinless chicken breasts, cut into thin strips
Peanut sauce, for serving
DIRECTIONS:
In a large bowl, mix together garlic, ginger, fish sauce, soy sauce, turmeric and 2 tablespoons oil. Add chicken and toss until it is completely coated.
Heat a grill or grill pan to high heat. Thread the chicken lengthwise onto the skewers. Brush remaining oil onto the grill. Place skewers on the grill in batches. Grill on both sides until cooked completely, about 5 minutes per side.
Serve with peanut sauce for dipping.
Veggie summer rolls
INGREDIENTS:
1 head romaine lettuce
½ large carrot, cut into strips
½ red pepper, cut into strips
1 cup fresh mint
1 cup fresh Thai basil
1 (12-ounce) package rice paper wraps
2 ounces Thai rice stick noodles
7 ounces firm tofu, cut into domino sticks
DIRECTIONS:
Fill a shallow bowl with water and place one wrap at a time in the water until soft. On a single rice paper wrap, place a small amount of each vegetable and gently roll them into the wrap, tucking the sides first. Repeat process.
Serve with dipping sauce.
Peanut dipping sauce
INGREDIENTS:
½ cup peanut butter
juice of 1 lime
2 tablespoons soy sauce
¼ cup water
1 teaspoon fish sauce
1 teaspoon sugar
½ teaspoon grated ginger
1 tablespoon rice vinegar
1 teaspoon hot sauce (preferably sambal oelek or Sriracha)
DIRECTIONS:
In a small mixing bowl, combine all sauce ingredients. Whisk thoroughly and set aside.
Pad see Ben
INGREDIENTS:
14 ounces dried rice-stick noodles
1 head of broccoli, cut into florets and stems cut into thin strips
3 tablespoons vegetable oil
2 eggs, beaten
2 cloves garlic, minced
1 tablespoon ginger, grated
½ red bell pepper, cut into thin strips
½ carrot, cut into thin strips
½ cup soy sauce
3 tablespoons rice vinegar
½ cup oyster sauce
1 teaspoon red pepper flakes
1 lime, cut into wedges, for serving
DIRECTIONS:
Boil a large pot of salted water. When water comes to a boil, drop in broccoli and cook for about 1 minute, or until the broccoli turns a bright green. Remove the broccoli and take the water from heat and add noodles. Stir, allow noodles to soften (about 5 minutes), and strain.
In a large skillet, warm vegetable oil at medium-high heat. Add eggs and scramble. Add garlic and ginger and cook for about 30 seconds, and then add vegetables. Allow to cook, stirring occasionally, until broccoli is tender. In a medium bowl, whisk together soy sauce, rice vinegar, and oyster sauce.
Add cooked noodles and soy mixture to the skillet. Toss until noodles are coated with sauce and allow to cook for about 5 minutes, stirring occasionally. Sprinkle with red pepper flakes and a squeeze of lime, serve immediately.
Peanut butter coconut cookies
INGREDIENTS:
1 cup peanut butter
½ cup butter, softened
½ cup sugar
2 eggs
1 teaspoon vanilla
1-½ cup flour
1 teaspoon baking soda
1 teaspoon salt, plus more for sprinkling
1 cup sweetened shredded coconut
DIRECTIONS:
Preheat oven to 350. Cream peanut butter, butter, and sugar together until very fluffy, about 1 minute. Add the eggs and vanilla and beat until combined.
In a separate bowl, whisk together flour, baking soda, and salt. Add the flour to the peanut butter mixture. Once it is fully combined, add the coconut and mix until the coconut is incorporated.
Roll dough into small balls -- about a heaping tablespoon -- and place onto baking sheet and sprinkle with a little salt. Press each ball down with fork and bake about 20 minutes, or until golden.
Do you live in the NYC area and want to throw a killer dinner party but don't think you can afford it? Well, let us help you out! We're looking for our next guest to be featured in $30 Dinner Party. Our host will create special recipes for you to wow your friends and family at an ultimate dinner party. If you're interested in being a featured guest on the show, email casting@thrillist.com with your story!
Sign up here for our daily Thrillist email and subscribe here for our YouTube channel to get your fix of the best in food/drink/fun.