Everywhere You Can Get Free and Cheap Food on Thanksgiving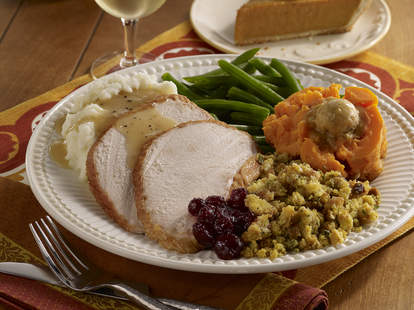 There's no question that Thanksgiving is all about food. Home-cooked meals and a gluttonous spread are essential components of the holiday.
However, even if you eat enough turkey to suffice for two of the day's meals, there's still a third meal waiting for you to make a plan. Or maybe you just need to caffeine up on the drive to grandma's house so you don't doze off like Clark Griswold heading to Wally World. Fortunately, a handful of popular restaurant chains are open on Thanksgiving and many of them are offering deals in recognition of the worst day of the year to be a turkey.
Take a look below to find the best freebies and discounts available on Thanksgiving.
Free Food on Thanksgiving
Cumberland Farms
The deal: If you're one of the many people driving on Thanksgiving, listen up. Cumberland will give you a free hot or iced coffee in any size from 12am to 11:59pm on Thanksgiving.
When: November 22
Wendy's
The deal: Every day through November 23, Wendy's is offering a free Jr. Bacon Cheeseburger when you make any purchase. You'll find the offer in the company's mobile app. 
When: Through November 23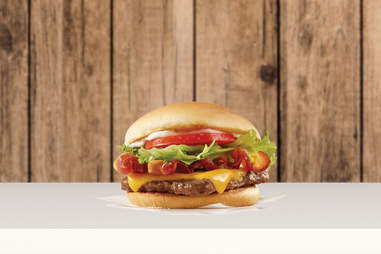 Edited - Courtesy of Wendy's
Food Deals on Thanksgiving
Cicis
The deal: Pick up a large two-topping pizza and it's just $5.99 with this coupon. 
When: Through November 23
Coolhaus
The deal: Take $1 off the shop's "Thanksgiving sammie," which features pumpkin cheesecake ice cream on ginger molasses cookies dipped in chocolate and sprinkles. 
When: November 18-22
Peet's Coffee
The deal: Pick up some beans. Peet's is offering 15% off purchases across the site with the code "BESTWEEKEVER."
When: November 22-26
Pizza Hut
The deal: It's also running a promotion called the St. Jude Meal Deal. You're bringing home two medium one-topping pizzas, a 16-piece order of parmesan bread bites, an eight-piece order of cinnamon twists, and a two-liter bottle of coke for $19.99. When you place the order, Domino's will also make a $1 donation to the St. Jude Children's Research Hospital. 
When: Through January 6, 2019
Illy Cafe
The deal: Get 15% off orders of $75, 20% off $150 orders, and 25% off $225 orders. (That doesn't apply to purchases on Baratza grinders, ready-to-drink coffees, or subscription orders.)
When: Through November 26
Treat House
The deal: The home of ridiculously alluring treats is offering 30% off any online order with the code "Turkey30."
When: November 22-26
Foodstirs
The deal: Check out the online store for baking goods, and get 30% off products, including kits, the entire week of Thanksgiving. 
When: November 19-23
Jimboy's Tacos
The deal: Buy a $25 gift certificate for a friend and get a $5 gift card for yourself. You can also add the $25 credit onto your Taco Nation mobile app, and you can get a bonus $5 credit there as well.
When: Through December 31
Farmer Boys
The deal: Buy $25 in gift cards and get a free $5 voucher. Or if you buy $100 in gift cards, you'll land a free $25 voucher.
When: Through December 31
Slice
The deal: The app that helps you avoid chains and order from local, independently-owned pizzerias is doing something a little different over the weekend of shopping holidays. Instead of offering a discount, they're offering to support your love of pizza as well as your local shop. Tell Slice why you're thankful for your favorite local pizza place and you could win $400 worth of pizza for your belly and $4,000 for your local shop to help them continue making that delicious, cheesy food you crave. 
When: Through November 25
Sign up here for our daily Thrillist email and subscribe here for our YouTube channel to get your fix of the best in food/drink/fun.