Turkey Ice Cream Is Here for Thanksgiving, if You're Into That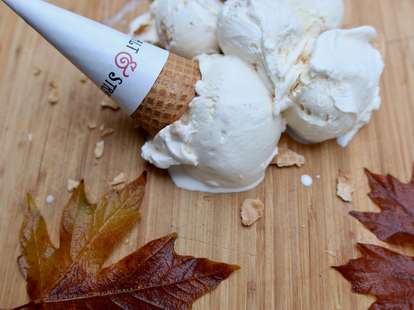 The season of eating is upon us, and thank goodness (and thank a whole bunch of things -- that's the point, remember?).
To aid us in this noble act of overstuffing ourselves, West Coast ice cream shop Salt & Straw has just released a line of five Thanksgiving food-inspired flavors that might seem appetizing and might seem bizarre depending on your tastes, but they're certainly all on theme. To get them scooped for you personally, you'll have to live in Portland, San Francisco, or Los Angeles. But fret not, ye Thankful: You can also order pints online and have them shipped to wherever you and your family are gathering to eat until sleep delivers you from small-talk obligations.
Not that you need another reason to buy a pint of ice cream, but also note that for every pint of Thanksgiving flavors purchased, Salt & Straw will donate a pint to Urban Gleaners, a group that works to alleviate hunger in Portland.
Here's the roundup of flavors, along with the descriptions from the website.
Apple Cranberry Stuffing
We made a satiating stuffing with challah bread, brown sugar, dried apples, and cranberries, which we fold into the ice cream that's flavored with our own celery soda. At first you'll taste the hearty herbaceous stuffing flavor, but then what's that? It's celery. Oh, and to finish it off, we add a dollop of caramelized cranberry jelly.
Buttered Mashed Potatoes & Gravy
We've made over 600 different flavors of ice cream, and this is hands-down the most savory one we've ever served. We make a potato-flavored ice cream, thanks to the real potatoes we boil down until the starch turns to sugar, and then stir in our own homemade gravy fudge made from two mashed-up recipes, pun very much intended. The result is a super-dense, super-creamy ice cream that tastes sweet and salty with hints of chocolate, coffee and yes, baked mashed potato.
Salted Caramel Thanksgiving Turkey
It wouldn't be Thanksgiving without turkey, but how exactly do we make it into deliciously salty, creamy ice cream? Two ways! We cook turkey stock mixed with sugar, spices and onions down until it bubbles into a caramel, which creates the base of the salted caramel ice cream. And we also roast turkey skin until it's crispy and then candy-coat it and mix bits of that in, too. So you could almost call this Double Salted Caramel Thanksgiving Turkey.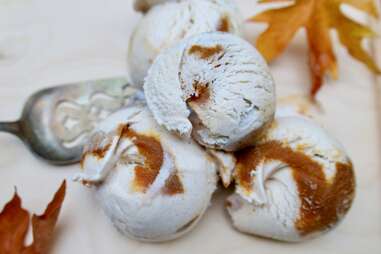 Spiced Goat Cheese & Pumpkin Pie
What makes pumpkin pie so delicious? We think it's the creaminess of the custardy filling. So we challenged ourselves to figure out how to make this ice cream taste just like that. We start with goat-cheese ice cream, which we sprinkle with pumpkin pie spices, but the generous helping of mashed pumpkin we fold and swirl in really steals the show. If there were ever an ice cream that actually warms your face, this is the one. It's the perfect end to a Thanksgiving meal of ice cream.
Sweet Potato Casserole with Maple Pecans
We roast sweet potatoes down and mix them with cream and sugar to make a sweet, spicy, sticky ice cream. Then we mix in Oregon pecans caramelized with maple sugar. And then of course you have to add some marshmallow, so we top it off with hand-churned ribbons of our own delicious homemade gooey maple fluff.
You should also note that the shops themselves will be closed on Thanksgiving, so if you're planning to go in person to one of their locations in Portland, Los Angeles, or San Francisco, you'll have to pick another day.
These pints aren't cheap at $65 a pop, but we promise it'll be better than a homemade attempt at turkey ice cream.
Sign up here for our daily Thrillist email and subscribe here for our YouTube channel to get your fix of the best in food/drink/fun.
James Chrisman is a News Writer at Thrillist and a turkey in a person costume. Send news tips to news@thrillist.com and follow him on Twitter @james_chrisman2.