The Best and Worst Times to Be on the Road This Thanksgiving
It's about to be a record-setting holiday travel season.
2022 was the year many people began resuming travel plans full tilt. And while revenge travel is falling out of popularity, holiday travel is certainly not. According to the Transportation Security Authority, an estimated 2.9 million people will be traveling on Sunday, November 26, which is a record-setting prediction. This year, AAA projects that 55.4 million people will travel 50 miles or more from their home for Thanksgiving.
That is nearly one million more people than AAA predicted last year. The 2022 estimate was 54.6 million people. It is about to be the third busiest Thanksgiving travel season since 2000, behind only the years 2005 and 2019.
"For many Americans, Thanksgiving and travel go hand in hand, and this holiday, we expect more people on the roads, skies, and seas compared to 2022," said Paula Twidale, senior vice president of AAA Travel, in a statement shared with Thrillist. "Travel demand has been strong all year, and AAA's Thanksgiving forecast reflects that continued desire to get away and spend time with loved ones."
As we know, the TSA is predicting upwards of two million people daily during the five-day travel period between Wednesday and Sunday of Thanksgiving week. But, most people who will be traveling won't be heading to their destination via air. AAA projects 49.1 million Americans will be driving.
So, if you're one of the many people driving on the road, we've got some intel that can help you avoid traffic. AAA and Google Maps both shared new data on when the busiest times of travel will be for the holiday. Here's what you need to know.
According to Google Maps data collected from 20 major cities, the best time to get on the road to head towards your destination is Monday or Tuesday night at 8pm local time. The busiest times of travel are predicted to be on Tuesday and Wednesday between 4pm and 5pm. On Thanksgiving Day itself, the busiest time of day on the roads will be between 1pm and 4pm. For heading back home, Saturday and Sunday will have the busiest roads between 3pm and 4pm. Google Maps data suggests that the best time to leave will after 8pm local time.
AAA has even more detailed data on when you should be heading out, broken down by day, time, and metro area.
"The day before Thanksgiving is notoriously one of the most congested days on our roadways. Travelers should be prepared for long delays, especially in and around major metros," said Bob Pishue, transportation analyst at INRIX, in the AAA report shared with Thrillist. "Knowing when and where congestion will build can help minimize holiday traffic frustrations. We advise drivers to use traffic apps, local DOT notifications, and 511 services for real-time updates."
You can check below to see the complete charts for the best travel times based by day and metro area.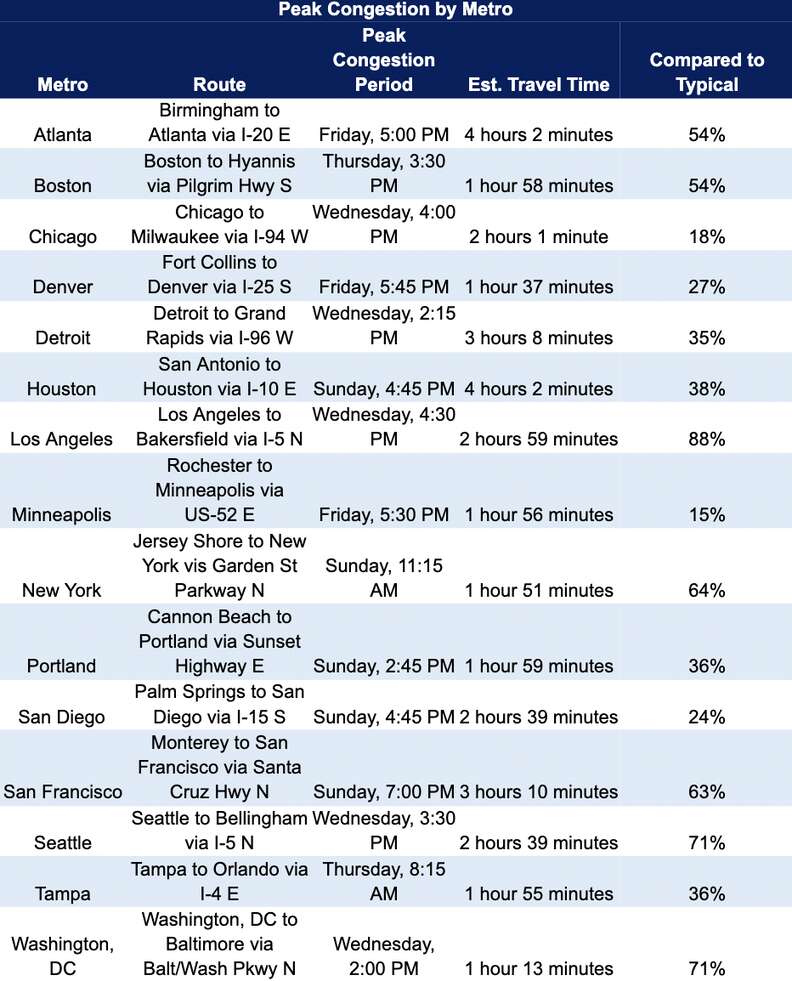 Opheli Garcia Lawler is a Staff Writer on the News team at Thrillist. She holds a bachelor's and master's degree in Journalism from NYU's Arthur L. Carter Journalism Institute. She's worked in digital media for seven years, and before working at Thrillist, she wrote for Mic, The Cut, The Fader, Vice, and other publications. Follow her on Twitter @opheligarcia and Instagram @opheligarcia.