Snow, Heavy Rain Expected on Busy Thanksgiving Travel Days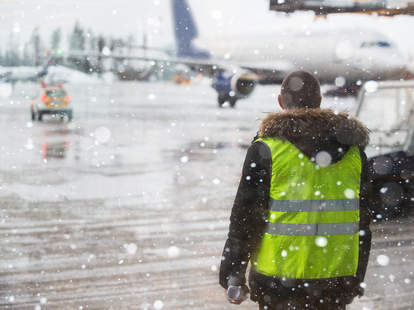 You may be better off taking the Niña, the Pinta, or and the Santa Maria to your Thanksgiving celebrations this year, because current forecasts for some the holiday week's busiest travel days suggest less-than-ideal conditions for driving and flying across the country.
We're sorry that ruining your day is part of our job, but rest assured that report isn't atrocious. Here's what we know: A low-pressure system is moving up the country starting this weekend. Snow is expected in the parts of the Northwest as a result, especially at higher elevations. There's also a chance for travel delays from the northern reaches of the Gulf Coast up into the Northeast on Saturday, thanks to snow, sleet, and freezing rain from another system, according to Weather.com.
Then there will be little calm before the next storm, which is expected to start on Tuesday, November 26. New England will be most heavily impacted by this system, and should expect heavy rain and strong winds into Wednesday. California should expect rain as well, and Accuweather says a little travel chaos might ensue in the Upper Midwest right before our day of thanks.
On Thanksgiving, people in the area from Denver to Minneapolis, and from Texas to Missouri, will likely see storms. Heavy gusts are expected to hit the Plains.
This week Thrillist already reported that the Sunday after Thanksgiving might be the busiest travel day in history, but the whole holiday week is supposed to be packed. Get to your airport early, or travel strategically if car is your mode of travel. And remember, the cancelation of Christopher Columbus leaves his ships up for grabs.
h/t Travel & Leisure
Sign up here for our daily Thrillist email and subscribe here for our YouTube channel to get your fix of the best in food/drink/fun.