Posting This Facebook Privacy Status Just Means You're a Moron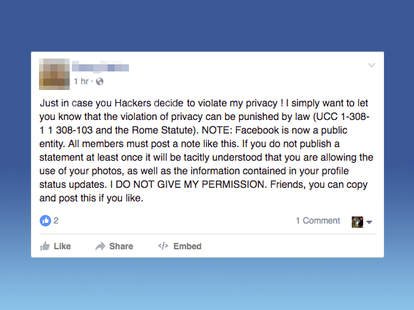 It seems that every couple years, Facebook users mount a collective rebellion against the social network, posting an annoying, misinformed status update about privacy.
If you're unfamiliar with the message -- which threatens legal action against a multi-billion dollar company for making user data public -- refer to the profile of your retired neighbor's best friend's podiatrist. They've probably posted it, in some scathing form or another:
"Deadline tomorrow !!! Everything you've ever posted becomes public from tomorrow. Even messages that have been deleted or the photos not allowed. It costs nothing for a simple copy and paste, better safe than sorry. Channel 13 News talked about the change in Facebook's privacy policy. I do not give Facebook or any entities associated with Facebook permission to use my pictures, information, messages or posts, both past and future. With this statement, I give notice to Facebook it is strictly forbidden to disclose, copy, distribute, or take any other action against me based on this profile and/or its contents. The content of this profile is private and confidential information. The violation of privacy can be punished by law (UCC 1-308- 1 1 308-103 and the Rome Statute). NOTE: Facebook is now a public entity. All members must post a note like this. If you prefer, you can copy and paste this version. If you do not publish a statement at least once it will be tactically allowing the use of your photos, as well as the information contained in the profile status updates. DO NOT SHARE. Copy and paste."
While it sounds like a cause worthy of gathering pitchforks and storming Facebook Headquarters in Menlo Park, California, this warning is nothing but an empty hoax. For starters, Facebook's terms and conditions declare that simply using the platform grants the company absolute control over "any IP content that you post on or in connection with Facebook."
Yes, you consigned the company "non-exclusive, transferable, sub-licensable, royalty-free, worldwide license" to all the mundane selfies and trivial anecdotes you've ever shared on the website. The only way to nullify this clause is to delete your profile -- an easy enough endeavor, but how on Earth could you vent on social media without Facebook, your most mortal of enemies?
Additionally, the status update cites laws UCC 1-308- 1 1 308-103 and the Rome Statute as the legal precedent for taking Mark Zuckerberg to court over this petty nonsense. The Guardian notes the Rome Statute's origin in the International Criminal Court, and that the law "deals specifically with genocide, crimes against humanity and war crimes. Copyright infringement and privacy concerns are a long way from their concerns."
Anyway, before you post the righteous screed to your profile, give Facebook's terms and conditions a thoughtful read. Yes, it's a boring, jargon-filled set of rules, but it sure as hell proves one thing: The company has the upper-hand here, so delete your account, or get in line. 
Sign up here for our daily Thrillist email, and get your fix of the best in food/drink/fun.
Sam Blum is a News Staff Writer for Thrillist. He's also a martial arts and music nerd who appreciates a fine sandwich and cute dogs. Find his clips in The Guardian, Rolling Stone, The A.V. Club and Vice. He's on Twitter @Blumnessmonster.