Here are the 15 Best-Paying Jobs if You Love to Travel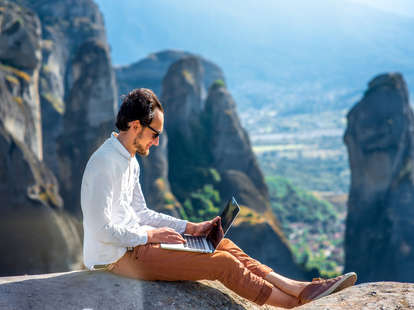 Although it's certainly possible, there's a good chance you won't land your dream job of traveling the world and drinking beer any time soon. But that doesn't mean you have to control your wanderlust and settle for a soul-crushing desk job, as evidenced by a new list of jobs from Indeed that involve both extensive travel and damn good pay
The job listings site has created a helpful list of 15 jobs that basically pay you travel, including salary data, the approximate time you'll spend traveling for work, and the companies that are hiring for such positions right now. The list includes careers you'd expect to involve travel -- cruise ship worker, airline pilot, travel photographer, among others -- as well as some that aren't as obvious, such as pharmaceutical sales rep, auditor, and retail buyer. With an average salary of nearly $80,000/year, consultant is the best-paying job on the ranking
Here's the full list:
If those careers don't sound wanderlust-y enough, you can always keep an eye out for one-off jobs that basically pay you to take months-long vacations. In any case, now's as good as time as ever to spruce up your resume and make a game plan for ditching your boring 9 to 5. You got this.
Sign up here for our daily Thrillist email, and get your fix of the best in food/drink/fun.
Tony Merevick is Cities News Editor at Thrillist and wouldn't mind doing some work-related travel. Send news tips to news@thrillist.com and follow him on Twitter @tonymerevick.