'The Beeramid' Is Here to Make Beer Pong Even Better
Admit it: after a few games of beer pong, things get boring. And yet you probably keep playing because 1) beer and 2) you're an animal and don't know when to stop. But luckily, there's a new way to make the timeless frat house sport exciting again -- besides playing with IPAs, now that you're older and classier. It's called The Beeramid and it's literally a game changer.
Here's how it works: Instead of creating two standard triangular cup arrangements on a table surface, a Beeramid set lets you build two pyramid-like structures with three separate tiers of cups -- six on the bottom, three in the middle, and one on the top. As explained on the product's Kickstarter campaign page, each of your cups is "independently stabilized" on its own removable pedestal that even features a lip to prevent the cup from falling. You can add, remove, and arrange the cups pedestals and cups however you like, which could result in crazy backboard and bounce shots, according to Beeramid creator Adrian Cox.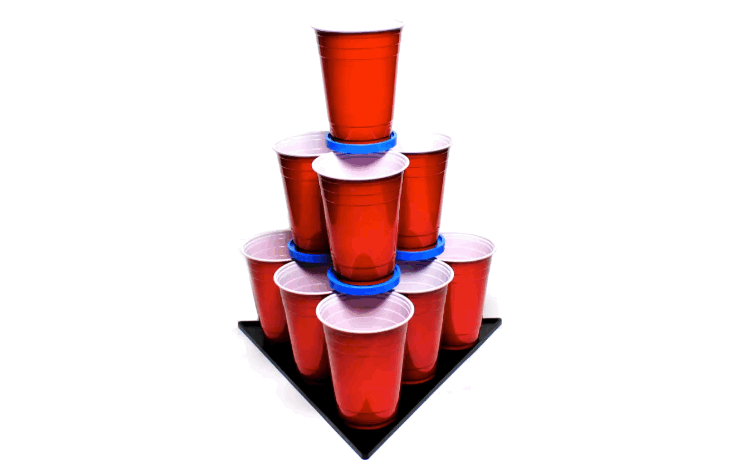 "People say it's a good mix of change, while still keeping the core concepts of beer pong," Cox said via email. "You can still bounce, re-rack and make your own house rules. If I had to put a number on it, I would say it has a 85% approval rating and that's not just with friends. We have been taking The Beeramid to bars in San Francisco to see how they like it. The other 15% are beer pong purists and people that don't enjoy drinking games."
People tend to get excited once they realize the cups aren't just stacked on top of each other, which typically results in lots of spilled beer, he said. Nobody likes spilled beer, but then again, it's not surprising people are resistant to adding a stand and pedestals into the mix when beer pong already works just fine.
Each Beeramid set comes with two bases, two large pedestals, six small pedestals, and a drawstring backpack for convenient party-hopping. As of Wednesday afternoon, the Kickstarter campaign has raised close to $8,000 towards its $17,000 goal, with only 10 days left. A $40 contribution will get you one of the first Beeramid sets if the project is funded.
Of course, this isn't the first invention hoping to revolutionize the way we play beer pong. Last summer, we told you about a group of bros who created a "Slip Cup" product to help prevent dirty ping pong balls from contaminating your beer. Who would have thought sudsy drinking games and innovation go so well together? 
As always, folks, beer pong responsibly.
Sign up here for our daily Thrillist email, and get your fix of the best in food/drink/fun.
Tony Merevick is Cities News Editor at Thrillist and sucks at beer pong. Send news tips to news@thrillist.com and follow him on Twitter @tonymerevick.