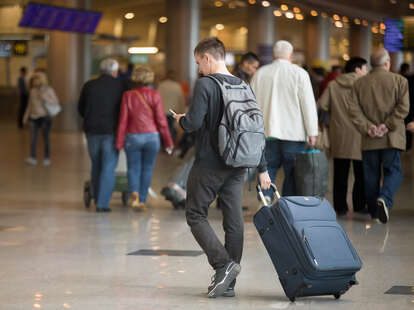 If you've gotta spend hours and hours in an airport, it better have a Cinnabon, cause that yummy smell permeates everything. It tastes pretty good, too. But that's not really what determines whether an airport is good or bad. Thankfully, somebody's done the calculating on that.
Travel Math, a trip calculating website, recently ranked the best and worst airports in America based on data taken from the Bureau of Transportation Statistics on things like TSA claims and wait time. After crunching the numbers, they found that smaller airports took most of the top spots, with Canyonlands Field Airport in Utah claiming the first spot. Makes sense, since there are probably a lot less people around to piss you off at Canyonlands Field Airport then say, JFK. The trend continued with Cedar City Regional Airport in Utah and Lewiston Nez Perce County Airport in Iowa claiming second and third.
As far as the worst airports are concerned, Newark Liberty International claimed that prize, and its close buddy LaGuardia came in as second worst. Another large airport, Washington Dulles International, was crowned the third worst airport in America.
Check out the top and bottom 10 below. And don't fly out of New York if you can help it.
The 10 Best Airports in the US 2015
10. Great Falls International
9. Bethel Airport
8. Hilo International
7. Bert Mooney
6. Pocatello Regional
5. Yakutat Airport
4. Yellowstone
3. Lewiston Nez Perce County
2. Cedar City Regional
1. Canyonlands Field
The 10 Worst Airports in the US 2015
10. McGhee Tyson Airport
9. Dallas/Fort Worth International
8. John F. Kennedy International
7. Aspen Pitkin County Sardy Field
6. Columbia Regional
5. Northwest Arkansas Regional
4. Chicago O'Hare International
3. Washington Dulles International
2. LaGuardia
1. Newark Liberty International
Sign up here for our daily Thrillist email, and get your fix of the best in food/drink/fun.
Kara King is a News Writer at Thrillist and actually kind of likes LaGuardia. Send news tips to news@thrillist.com and follow her at @karatillie.