The 20 Best Employee Benefits & Perks of 2017 Will Make You Super Jealous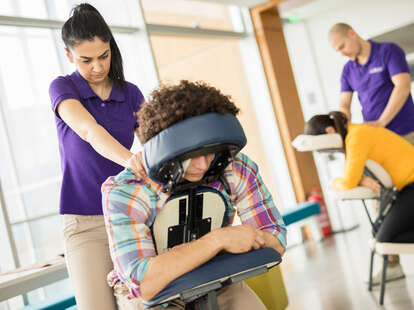 shutterstock.com
shutterstock.com
When it comes to your average 9-5 office job, equitable pay, good health coverage, a gym reimbursement, and maybe a transit subsidy are all pretty great benefits. But have you ever wondered what kind of insane benefits and perks people get to enjoy in their jobs at some of the top-rated companies in the country? Well, if you're ready to be consumed with envy and start questioning your life choices, Glassdoor has released its annual list of the 20 best employee benefits and perks. And, uh, they're pretty damn great.
As with previous years, the list features benefits and perks that go well beyond, say, weekly catered lunches (although that's nice, too) and as the jobs listings website put it, "enter legendary status." In other words, an office beer keg, ping pong table, summer Fridays, and unlimited vacation days can almost certainly make your job and life a little easier, but the companies on the list take their benefits game a step further with uniquely cool and potentially life-changing offerings for their employees. These include things like onsite-gyms with free fitness classes, health insurance for your pets, and paid time off for volunteer work, among others.
After all, 57% of jobseekers consider benefits and perks among the top factors they weigh before taking a new job, according to Glassdoor. That means companies are increasingly offering spectacular benefits as a competitive edge to lure talent, which seems like a win-win for everyone, right? Glassdoor released a detailed benefits report on Tuesday. Here's the list:
1. IKEA offers up to four months of paid parental leave to both part-time and full-time employees with at least one year of experience at the company, regardless of whether they work at a retail store or the corporate headquarters.
2. Reebok encourages employees to reach their personal fitness goals by providing an on-site gym with Crossfit classes.
3. Bain & Company, the Best Place to Work in 2017, holds an annual two-day, global "Bain World Cup" soccer tournament open to all employees. Last year's event was in Brussels. The 2017 tournament will be held in Los Angeles.
4. Goldman Sachs offers coverage for gender reassignment surgery, a benefit the company has offered since 2008.
5. Facebook provides healthcare coverage and free housing for interns. Known for its competitive benefits package, many Facebook interns report earning more than $7,000 per month.
6. Scripps Health cares about the wellbeing of its employees' furry family members, offering pet health insurance for cats and dogs.
7. Starbucks provides full tuition reimbursement for its employees, covering an online bachelor's degree program through Arizona State University.
8. American Express' parental leave policy offers up to five months of fully-paid leave for both mothers and fathers. Birthing mothers generally receive an additional 6 to 8 weeks under salary continuation for medical leave. Parents are also given access to a 24-hour lactation consultant, and mothers traveling for business can ship their breast milk home for free.
9. Eventbrite helps keep employees healthy by offering a monthly $60 wellness stipend, which can be used on everything from gym dues to juice cleanses.
10. Whole Foods Market offers a 20% store discount to all employees, including full-time and part-time employees.
11. In-N-Out's employees can treat themselves to a free Double-Double burger and fries during each shift.
12. Deloitte offers two sabbatical programs: an unpaid one-month sabbatical that can be taken for any reason, and a three- to six-month sabbatical that can be taken to pursue personal or professional growth opportunities with 40% pay.
13. Gap provides free access to the San Francisco Museum of Modern Art to corporate employees. Gap founders Doris and Donald Fisher worked closely with the museum to feature their prominent private collection.
14. Microsoft offers an annual $800 "StayFit" reimbursement program to help cover the cost of gym memberships and fitness programs.
15. Insurance company Swiss Re's "Own the Way You Work" program encourages employees to embrace flexibility with their schedules and work remotely.
16. Amazon offers two programs for new parents: Leave Share, which allows employees to share paid leave with their partner if the partner's company does not offer paid leave, and Ramp Back, which gives new moms more control over easing back into work. All perks are available for corporate, customer service and fulfillment center employees.
17. USAA offers a strong 401k program with an 8 percent matching policy. According to SHRM, the average company in the U.S. matches 6 percent.
18. Southwest offers all employees and their dependents access to Clear Skies, an employee assistance program that provides confidential counseling, work/life services, and legal consultations.
19. Genentech offers unique on-site amenities, including car washes, haircuts, childcare center, mobile spa and dentist.
20. Timberland employees can take up to 40 hours of paid time off per year to volunteer.
Sign up here for our daily Thrillist email, and get your fix of the best in food/drink/fun.
Tony Merevick is Cities News Editor at Thrillist and certainly wouldn't mind unlimited vacation days. Send news tips to news@thrillist.com and follow him on Twitter @tonymerevick.