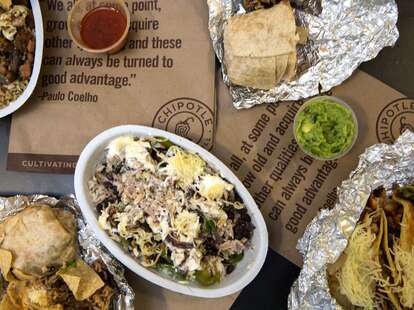 Laura Murray/Thrillist
Laura Murray/Thrillist
Chipotle's food-borne illness woes are, apparently, not over. Following the widespread E. coli outbreak from late October and a recent Norovirus outbreak that sickened dozens of people in Boston, federal health officials said Monday they are investigating what could be a new E. coli outbreak linked to the burrito-slinging fast casual chain.
In a news update from the Centers for Disease Control and Prevention (CDC), officials said five people in three states -- Kansas (1 person), North Dakota (1), and Oklahoma (3) -- became ill in the period of November 18th to November 26th after eating at Chipotle the prior week. Investigators said the illnesses were caused by a different and "rare" strain of E. coli, and at this point, said it's unclear if the new cases are related to the previous outbreak, which has sickened 53 people in nine states.
"Because it is not known if these infections are related to the larger, previously reported outbreak of STEC O26 infections, these illnesses are not being included in the case count for that outbreak," the CDC said in the update. "This investigation is ongoing."
However, in a statement to CNBC, a Chipotle spokesman suggested the latest illnesses are connected to the initial E. coli outbreak, saying, "We have indicated before that we expected that we may see additional cases stemming from this, and CDC is now reporting some additional cases. Since this issue began, we have completed a comprehensive reassessment of our food safety programs with an eye to finding best practices for each of the ingredients we use."
It's been a rough several weeks for Chipotle as new cases related to the initial E. coli outbreak continued to emerge as well as the recent Norovirus outbreak in Boston -- all of which have prompted the chain to apologize to customers and repeatedly pledge sweeping changes to its food safety procedures. Earlier this month, the company promised to become the "industry leader" in food safety, and said it continues to serve a million customers a day without incident.
Sign up here for our daily Thrillist email, and get your fix of the best in food/drink/fun.
Tony Merevick is Cities News Editor at Thrillist and just ate a burrito earlier, but admittedly not from Chipotle. Send news tips to news@thrillist.com and follow him on Twitter @tonymerevick.