The Cheesecake Factory Is Unleashing All-New Dessert Kits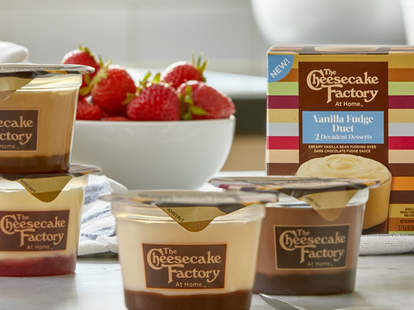 When we caught wind The Cheesecake Factory is introducing an entire collection of ice cream inspired by its most iconic cheesecake flavors, we were psyched. All the indulgence of the chain's in-store cheesecake without the effort of going out in public. And now, the purveyor of the world's greatest brown bead is giving us yet another at-home treat.
The Cheesecake Factory is dropping a line of Decadent Dessert kits, which according to the restaurant chain, are "premium layered puddings." Each pack is sold with two (Who's going to eat just one?) and currently comes in four flavors: Chocolate Black-Out, Cake batter Strawberry Royale, Salted Caramel Delight, and Vanilla Fudge Duet.
According to the @threesnackateers Instagram account, the boxes are going for $3.28 a pop and can be found in the refrigerated aisle. The vanilla fudge has a vanilla bean pudding and chocolate fudge sauce, the salted caramel is doused in caramel sauce, the cake batter pudding has a sweet strawberry puree, and the Chocolate Blackout is chocolate with a dark chocolate fudge.
They're already available at select grocery stores -- including Walmart and Aldi, Delish reports -- and sound like the perfect way to round out an at-home Cheesecake Factory feast. ICYMI, the chain sells a whole bunch of other products, too. We're talking entire cheesecakes, slices, cupcakes, and you betcha, that brown bread.
Courtesy of The Cheesecake Factory
The cheesecake ice cream, however, should not be slept on with flavors like Birthday Cake, Chocolate, Cookies & Cream, Key Lime, Original, Salted Caramel, and Strawberry. It's slated to hit stores sometime in March, so keep an eye out.
Sign up here for our daily Thrillist email and subscribe here for our YouTube channel to get your fix of the best in food/drink/fun.
Megan Schaltegger is a staff writer at Thrillist. Follow her @MegSchaltegger.