The Cheesecake Factory Just Debuted an Entire Line of Cheesecake-Flavored Ice Cream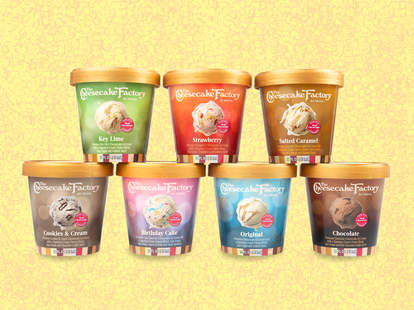 Courtesy of The Cheesecake Factory
The Cheesecake Factory is an oasis of brown bread, questionable brunch orders, and every single kind of cheesecake imaginable. But sometimes, getting dressed and trekking to your nearest chain is an inconvenience. You're about to finish season two of You and real pants (read: ones without an elastic waistband) seem like an impossible feat.
Thankfully, our cries have been heard. On Tuesday, The Cheesecake Factory debuted an entire line of cheesecake-inspired ice cream in partnership with Iowa-based manufacturer Wells Enterprises Inc. The seven pint flavors were created to mirror the chain's most iconic slices, including birthday cake, chocolate, and cookies and cream, People reports. 
Each pint features sour cream and a "signature cream cheese blend," but the flavors are varied from there. The collection includes Birthday Cake, Chocolate, Cookies & Cream, Key Lime, Original, Salted Caramel, and Strawberry.
Courtesy of The Cheesecake Factory
According to People, the cheesecake-flavored ice cream, which is available in 14oz containers for a suggested retail price of $4.99, will hit ice cream aisles in March. But, if you're anything like me (i.e. lacking in a little virtue called patience), fear not. The Cheesecake Factory's latest launch is an extension of the company's existing at-home line, which involves everything you'll need to cope with that You ending: entire cheesecakes, slices, cupcakes, and yep, that unparalleled brown bread. 
Sign up here for our daily Thrillist email and subscribe here for our YouTube channel to get your fix of the best in food/drink/fun.
Megan Schaltegger is a staff writer at Thrillist. Follow her @MegSchaltegger.