The Cheesecake Factory's New Menu Features More Than a Dozen 'Timeless Classics'
Bring on the Nashville Hot Chicken and Crab Wontons.
Courtesy of The Cheesecake Factory
I have a habit of eating way too much of whatever free food is placed in front of me pre-entrée—be it chips or that glorious Cheesecake Factory brown bread. And while I love filling up on complimentary apps like the rest of them, looks like I'll have to save some additional room while dining at the latter.
The dessert-centric chain, which already boasts a rather extensive menu, is adding a whole host new items nationwide. Its new lineup of "timeless classics" includes pasta, small plates, and chicken entrées ranging in price from $6.50 to $15.95.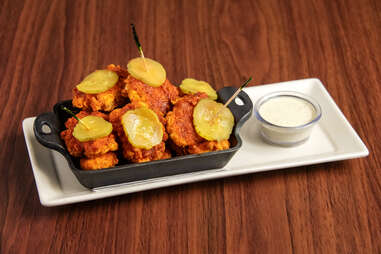 Here's the full menu:
Nashville Hot Chicken Nuggets:

hand-battered and fried chicken doused in spicy Nashville hot sauce with ranch dressing.

Crispy Crab Wontons:

classic

C

rab Rangoon with crab, cream cheese, green onion, water chestnuts fried up nice and crispy and served with a side of sweet chili sauce.

Bruschetta:

fresh tomatoes, basil, garlic, and extra virgin olive oil served with atop toasted artisan bread.

Tons of Fun Burger:

a double cheeseburger topped with lettuce, tomato, red onion, pickles, and secret sauce sandwiched between a toasted sesame seed bun.

Grilled Shrimp & Bacon Club:

charbroiled shrimp, smoked bacon, lettuce, and tomato with a special sauce.

Kale & Quinoa Salad:

lettuce, kale, Brussels sprouts, Marcona almonds, grapes, Parmesan, goat cheese, and croutons served with a vinaigrette.

Chicken Pot Pie:

features a creamy gravy brimming with chicken, peas, carrots, onions, mushrooms, and potatoes with a flaky pastry crust.

Dijon Chicken:

sautéed chicken breasts with Parmesan breadcrumbs, mushrooms, onions, and garlic in a Dijon mustard cream sauce and served with angel hair pasta.

Bar-B-Que Salmon:

glazed salmon with The Cheesecake Factory's own BBQ sauce and served with a side of mashed potatoes, corn, avocado, zucchini, and cilantro salad.

Thai Chicken Pasta:

sautéed chicken with julienne carrots, green onion, and cilantro in a spicy peanut sauce and topped with fresh bean sprouts.

Sheila's Blackened Chicken Pasta:

linguini pasta with peppers and onions in a spicy Creole tomato sauce.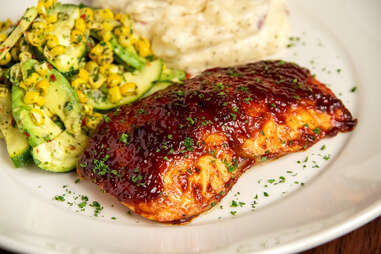 The menu rollout also includes three cocktails: the Bikini Martini with vodka and rum, and pineapple juice; the Lemon Sunburst, which features spiked frozen lemonade with vodka and fresh lemon zest; and The Ritz, a Courvoisier, Cointreau, and Pomegranate-filled cocktail shaken with a splash of Prosecco.
Of course, no meal is complete without an order from the pastry case—and luckily, The Cheesecake Factory's is brimming with options. Maybe a fresh strawberry slice, original cheesecake if you wanna match the classics move, or even the semi-new Snickers flavor.
Sign up here for our daily Thrillist email and subscribe here for our YouTube channel to get your fix of the best in food/drink/fun.
Megan Schaltegger is a staff writer at Thrillist.