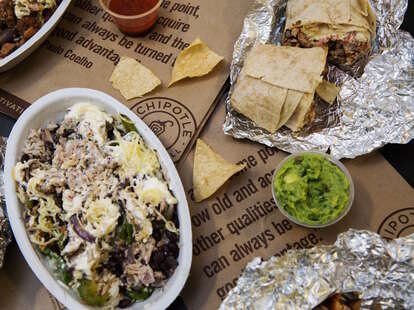 The mysterious E. coli outbreak that prompted Chipotle to temporarily shutter 43 stores in the Pacific Northwest last month has expanded to six states, according to an update from federal health officials on Friday.
The Centers for Disease Control & Prevention (CDC) said a total of four new E. coli infections have now been reported in three additional states -- two in California, one in New York, and one in Ohio. Specifically, the people sickened said they ate at Chipotle restaurants in Turlock, CA; Akron, OH; Amherst, NY; and Burnsville, MN, the company said in a press release.
The new cases raise the number of people sickened in the outbreak to 45, the majority of whom are in Washington and Oregon. So far, 16 people have been hospitalized and nobody has died, per a factsheet from the CDC. Health officials said current evidence suggests that a common food item from Chipotle's normally delicious menu is the likely source of the outbreak, but the exact food is still a mystery -- and under investigation.
Following the update from the CDC, Chipotle said it continues to take "significant" measures to ensure all the burritos, bowls, tacos, and more are safe to eat, such as testing ingredients, examining its food safety procedures for areas it can improve, and working with food safety scientists to asses companywide safety programs. After the initial rash of illnesses late last month, the company closed 43 restaurants in Washington and Oregon, and all of those stores have since been cleaned, inspected, and reopened. Steve Ells, chairman and co-CEO of Chipotle, apologized to customers:
"We offer our sincerest apologies to those who have been affected," he said in a press release. "We will leave no stone unturned to ensure the safety of our food -- from enhancing the safety and quality assurance program for all of our fresh produce suppliers, to examining all of our food safety procedures from farm to restaurant, and expanding testing programs for produce, meat and dairy items before they are sent to our restaurants."
Symptoms of an E. coli infection typically involve awful-sounding things like abdominal cramps, nausea, vomiting, and diarrhea (often bloody), according to the CDC. This is all to say that if you feel any more bloated than you normally do after somehow eating an entire burrito, you might want to seek medical attention.
Sign up here for our daily Thrillist email, and get your fix of the best in food/drink/fun.
Tony Merevick is Cities News Editor at Thrillist and urges everyone to exercise the utmost caution on your lunch break. Send news tips to news@thrillist.com and follow him on Twitter @tonymerevick.