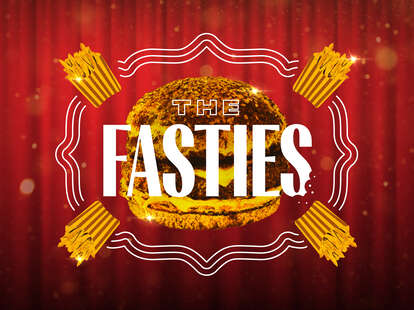 Illustration by Maitane Romagosa for Thrillist
Illustration by Maitane Romagosa for Thrillist
The Fasties, Thrillist's annual fast food awards show, is back for seconds in 2021. After proving you can throw a hilariously over-the-top—yet completely serious—celebration of fast food with the inaugural Fasties ceremony last year, we're back in the drive-thru and hungrier than ever with all-new, freshly fried awards categories, special guests, and a whole grease-stained paper bag full of surprises. So, throw on your cardboard crown, grab your favorite dipping sauce, and come along for the ride.
The 2021 Fasties, hosted by Tim Chantarangsu and David So of Send Foodz, will premiere on Tuesday, April 20, at noon ET. The show will honor the best things that came out of fast food restaurants over the last year and honor the fast food workers and first responders who served on the frontlines of the pandemic—all in the style of a Hollywood awards ceremony, minus the cheesiness (okay, we'll admit it, there's probably going to be some cheese). Tune in for the winners, and stay for the special guest segments throughout the show. Wait. What? You're only watching for the acceptance speeches from fast food corporate execs? Don't worry; we'll have those too.
The 2021 Fasties categories touch on almost every corner of fast food menus. Awards include Best Breakfast, Best Chicken Nuggets, Best Soft Serve Ice Cream, and even Best New Menu Item. Additional awards highlight the latest and greatest in the world of plant-based meat offerings and settle the debate over who serves the crispiest, most delicious onion rings. Two all-new categories reflect how fast food chains responded to the pandemic: Best Value Menu and Best First Responder Deal. The show will culminate with the top award, Chain of the Year. Meanwhile, the Most Valuable Pickle (MVP) award honors the best salty cucumber slices in the game, and this year's Lifetime Achievement Award celebrates one chain's unmatched contributions to the fast food world. But we didn't stop there.
Fast casual restaurants—think Shake Shack, Five Guys, Zaxby's, and more—will get a share of the Fasties heat lamp light for the first time, marking a massive expansion of the awards' scope. Fast casual categories include Best Cheeseburger, Best Fried Chicken Sandwich, and Best Fries.
We recognize that handing out awards to fast food chains may sound ridiculous, but... that's kind of the point. We take fast food seriously, but we don't take ourselves too seriously. The Fasties are the ultimate embodiment of our borderline-obsessive—yet playful—focus on French fries, fish sandwiches, and everything in between. Most importantly, it's all about having fun.
The 2021 Fasties winners will be announced via an awards show on Thrillist's YouTube channel, social media platforms, and here on Thrillist.com just in time for lunch at 12pm ET on April 20. In the meantime, grab a bacon cheeseburger, check out the nominees (listed below), and vote via Twitter for the People's Choice in a handful of the categories.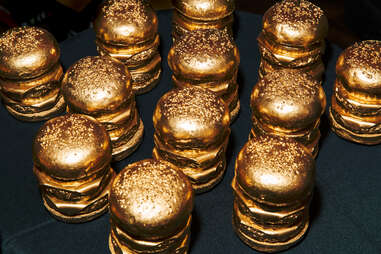 Here are the 2021 Fasties categories and nominees:
Best Breakfast
McDonald's
Wendy's
Chick-fil-A
Taco Bell
Jack in the Box
Best Chicken Nuggets
Jack in the Box: Chicken Nuggets
KFC: Popcorn Nuggets
McDonald's: Chicken McNuggets
Chick-fil-A: Nuggets
Wendy's: Crispy Chicken Nuggets
Best Onion Rings
Whataburger: Onion Rings
Jack in the Box: Onion Rings
Culver's: Onion Rings
Dairy Queen: Onion Rings
Sonic Drive-In: Hand Made Onion Rings
Best Fish Sandwich
Jack in the Box: Fish Sandwich
Long John Silver's: Wild Alaska Pollock Sandwich
Whataburger: Whatacatch
Popeyes: Cajun Flounder Sandwich
Culver's: North Atlantic Cod Filet Sandwich
Best Bacon Cheeseburger
Checkers: Baconzilla!
Whataburger: Bacon & Cheese Whataburger
Burger King: Bacon King
Wendy's: Baconator
Sonic Drive-In: SuperSONIC Bacon Double Cheeseburger
Best Plant-Based Meat Item
Quiznos: Plant-Based Corned Beef
Carl's Jr.: Beyond Fiery Famous Star
Carl's Jr.: Beyond Famous Star with Cheese
White Castle: Impossible Slider
Del Taco: Beyond Tacos & Burritos
Best Soft Serve Ice Cream
Wendy's: Frosty
Dairy Queen: Vanilla Cone
Sonic Drive-In: Vanilla Cone
Burger King: Soft Serve Cone
McDonald's: Vanilla Cone
Best Value Menu
Taco Bell: Cravings Value Menu
Sonic Drive-In: Everyday Deals
Del Taco: Del's Dollar Deals Menu
Taco John's: The Valuest Menu
Wendy's: Biggie Deals Menu
Best New Menu Item
Chick-fil-A: Kale Crunch Side
Church's Chicken: Chicken Sandwich
Culver's: Harvest Veggie Burger
Wendy's: Maple Bacon Chicken Croissant
Taco Bell: Chicken Chipotle Melt
Regional Chain of the Year
Culver's
Whataburger
Bojangles
Chain of the Year
Taco Bell
Wendy's
Popeyes
KFC
Best First Responder Deal
MVP (Most Valuable Pickle)
Lifetime Achievement Award
And here are the nominees in the three new fast casual categories:
Best Cheeseburger (Fast Casual)
Five Guys: Cheeseburger
Smashburger: Classic Smash Burger
Freddy's Frozen Custard & Steakburgers: Freddy's Original with Cheese
Shake Shack: ShackBurger Single
BurgerFi: BurgerFi Cheeseburger
Best Fried Chicken Sandwich (Fast Casual)
Shake Shack: Chick'n Shack
Fatburger: Crispy Chicken Sandwich
Freddy's Frozen Custard & Steakburgers: Crispy Chicken Sandwich
Wayback Burgers: Crispy Chicken
Zaxby's: Zaxby's Signature Sandwich
Best Fries (Fast Casual)
Zaxby's: Crinkle Fries
Smashburger: Smashfries
Five Guys: Five Guys Style Fries
Shake Shack: Crinkle Cut Fries
Freddy's Frozen Custard & Steakburgers: Freddy's Shoestring Fries
Miss the 2020 Fasties? Here Are Last Year's Categories & Winners.
Thrillist's first-ever Fasties launched on February 19, 2020, honoring fast food stars in 16 original categories, including Best Burger, Best Fried Chicken Sandwich, Best Fries, and many more. While some categories have returned for the 2021 awards program, we decided to keep things interesting with a slate of several new categories. In other words, it's safe to say that many of the winners in 2020 are still the undisputed champions.
Here's the full list of 2020 Fasties award winners:
Best Fried Chicken Sandwich: Popeyes - Chicken Sandwich
Best Burger: Culver's - ButterBurger Cheese
Best Plant-Based Burger: White Castle - Impossible Slider
Best Fries: Arby's - Curly Fries
Best Taco: Del Taco - The Del Taco
Best Dessert: Yoshinoya - Cheesecake
Best Coffee: Culver's
Best Breakfast Sandwich: Chick-fil-A - Chicken Biscuit
Best Chicken Tenders: Raising Cane's - Chicken Fingers
Best Sauce: Culver's - Wisconsin Cheddar Cheese Sauce
Best New Menu Item of the Year: Popeyes - Chicken Sandwich
Regional Chain of the Year: Culver's
Chain of the Year: Popeyes
Menu Item of the Decade: Taco Bell - Doritos Locos Taco
Lifetime Achievement Award: Ketchup
Most Valuable Pickle (MVP): Popeyes - Chicken Sandwich