You Can Walk to This Tiny Island on a Floating Ribbon Bridge
Wolfgang Volz © 2016 Christo and Jeanne-Claude
You can now walk on water. Sort of.  You can walk on this floating ribbon bridge in Italy and feel like you're walking on water.
The Floating Piers is an interactive art project by artists Christo and Jeanne-Claude that stretches across Italy's Lake Iseo, allowing visitors to walk through the water on a brilliant golden ribbon. This inspiring artwork acts as a bridge between Sulzano, Monte Isola, and the mini island of San Paolo.
The bridge is made of yellow fabric, crosses nearly two miles of water, and is entirely safe to walk on thanks to the floating dock system underneath. In addition to being a fun way to explore everything lakeside, the bridge is aesthetically gorgeous, and transforms in color from yellow to red to gold, depending how the light and water hits it.
Take a look at this beauty: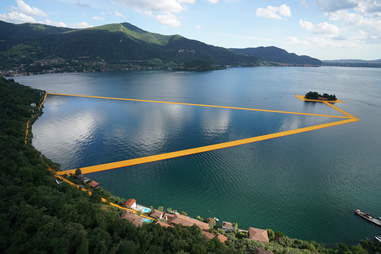 Wolfgang Volz © 2016 Christo and Jeanne-Claude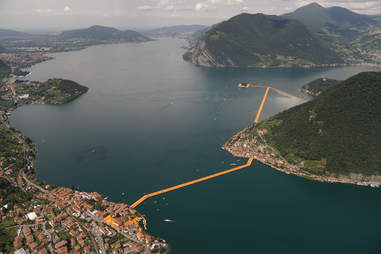 Wolfgang Volz © 2016 Christo and Jeanne-Claude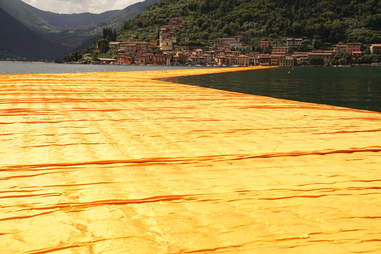 Wolfgang Volz © 2016 Christo and Jeanne-Claude
Since it's an art installation, The Floating Piers will only be around until July 3, 2016. But if you happen to be near Lake Iseo, you can explore the bridge 24/7, as long as the weather's OK. And to make it all even more beautiful, this attraction is completely free of charge. 
If you're not vacationing on Iseo, just look at those incredible photos one more time.
Sign up here for our daily Thrillist email, and get your fix of the best in food/drink/fun.
Kara King is a News Writer at Thrillist and these photos are way too much for her wanderlust. Send news tips to news@thrillist.com and follow her at @karatillie.