In the inimitable words of Sloth, "Hey you guys!" If you're a fan of The Goonies and you're looking for your dream home, then you're in luck. The two-story Victorian house at the center of the film is newly on the market, but you're going to need a Goonie-sized treasure discovery to cover the costs.
The home, situated in Astoria in northwest Oregon, has been listed at an asking price of $1.65 million.
The three-bedroom, two-bathroom house was built in 1896, and its exterior has been left relatively untouched since film producers used it as a filming location for the classic 1985 film, which featured Hollywood talent like Sean Astin, Josh Brolin, Corey Feldman, and Martha Plimpton. The house still has that same signature white wood siding, wraparound porch and an expansive view of the Pacific Northwest coastline.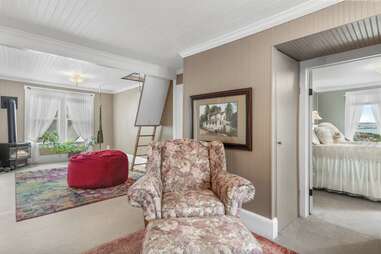 If you're hoping to stumble upon a treasure map in the attic then prepare to be disappointed. Well, not completely, because you'll still find plenty of gold. The attic space has since been converted into a bedroom with a shimmering, all-gold bathroom. Perhaps a nod to the film, perhaps just a bold design choice. Either way, respect.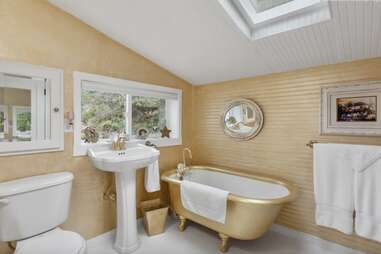 The home's listing agent, Jordan Miller, told KOIN-TV that he and the seller are looking for a buyer that not only appreciates the film, but also the film's history and the surrounding community. The criteria makes sense considering the fact that the home will likely be visited by fans for years to come.