These Are The Happiest States In America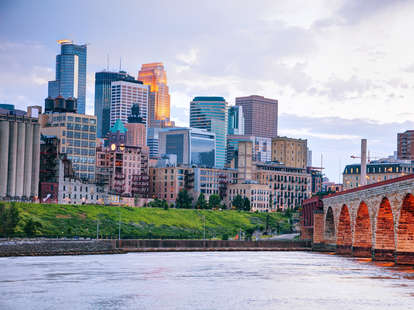 Minneapolis, Minnesota

| Shutterstock/photo.ua
Minneapolis, Minnesota

| Shutterstock/photo.ua
It's impossible to pinpoint a single quality that would make one state "happier" than any other, since happiness is inherently so subjective. However, you can apply some quantitative methods to analyze the overall happiness of a particular population (and not just by measuring the number of puppies, happy hours, and pizza joints per capita). That's what the folks at WalletHub just did, and they presented their findings by ranking all 50 states from least happy to happiest.
Spoiler alert: Minnesota may be cold and dark for months on end, but dammit, it's happy.
To measure a state's collective happiness, the researchers weighed 28 different metrics in three key areas: emotional and physical well-being, work environment, and community and environment. Specifically, they looked at things like rate of depression among adults, work hours/commute time, ideal weather, suicide rate, and divorce/separation stats. It turns out that for 2017, Minnesota is the happiest state, followed by Utah, Hawaii, California, and Nebraska. Conversely, the least happy states include West Virginia, Oklahoma, Louisiana, Alabama, and Arkansas.
Here's how the full ranking breaks down:
50. West Virginia
49. Oklahoma
48. Louisiana
47. Alabama
46. Arkansas
45. Mississippi
44. Kentucky
43. Missouri
42. Tennessee
41. Alaska
40. New Mexico
39. Wyoming
38. South Carolina
37. Nevada
36. Ohio
35. Delaware
34. Indiana
33. Rhode Island
32. Oregon
31. Florida
30. Georgia
29. Michigan
28. Texas
27. Kansas
26. North Carolina
25. Maine
24. Pennysylvania
23. Montana
22. New York
21. Arizona
20. Illinois
19. Massachusetts
18. Connecticut
17. Idaho
16. Washington
15. Colorado
14. North Dakota
13. Vermont
12. Virginia
11. Maryland
10. New Hampshire
9. Wisconsin
8. Iowa
7. South Dakota
6. New Jersey
5. Nebraska
4. California
3. Hawaii
2. Utah
1. Minnesota
Besides the overall ranking, the Wallethub team also revealed some "best" and "worst" states for a handful of the individual metrics. For instance, when it comes to Highest Income Growth, North Dakota is the best and Nevada is the worst. If getting enough sleep is your concern, Colorado has the highest adequate sleep rate, while Hawaii has the lowest. However, Hawaii boasts the lowest share of adult depression (Oregon has the highest).
Of course, statistics can't account for your individual taste, and what makes you happy. That said, if you need us, we'll be searching for flights to St. Paul.
Sign up here for our daily Thrillist email and subscribe here for our YouTube channel to get your fix of the best in food/drink/fun.