The Hidden Risk of Drinking Out of Larger Wine Glasses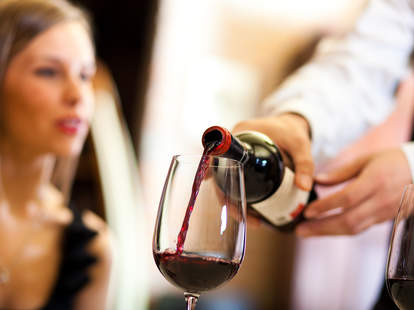 Tucking in at a restaurant with a healthy pour of red wine served in a fancy, oversized wine glass is a beautiful thing. Depending on the wine, the shape and size of the glass it's poured in can actually help bring out flavors and aromas to a degree you might not experience otherwise. But according to new research, the size of the glass your wine is served in could actually influence how much wine you end up drinking and how much you spend.
A small study by researchers at the University of Cambridge suggests that larger wine glasses encourage restaurant and bar patrons to drink more, even if the serving size is exactly the same, according to a report by The Wall Street Journal. In the study, a local pub-restaurant saw a 9% increase in wine sales when it used larger 370ml glasses to serve the same 175ml pours, instead of the standard 300ml glasses. In other words, the increase wasn't caused by patrons somehow receiving more wine in their glasses, but apparently, by the size of the glasses alone.
The scientists believe it could have something to do with what's known as "unit bias," which in this case would cause drinkers to perceive the same amount of wine in a larger glass as less than a typical portion, and ultimately influence them to order more. Theresa Marteau, director of the Cambridge's Behavior and Health Research Unit and the study's lead researcher, said another explanation is that people simply drink the wine faster because they perceive the glass to contain less, according the report. Or, maybe the bigger glasses allowed people to swirl it better?
Equally interesting is that smaller wine glasses (250ml) didn't impact how much wine people ended up drinking. Unsurprisingly, the pub analyzed in the study has since switched entirely to the larger glasses, because clink-clink = cha-ching. But then again, if you're in the business of drinking a lot of wine, it doesn't really matter what the vessel is -- especially if you've got something like this. 
Sign up here for our daily Thrillist email, and get your fix of the best in food/drink/fun.
Tony Merevick is Cities News Editor at Thrillist and thinks it's worth the risk if the risk involves drinking more wine. Mmm. Send news tips to news@thrillist.com and follow him on Twitter @tonymerevick.