You Could Win a Free Stay at This English Cottage Inspired by 'The Holiday'
Courtesy of Independent Cottages
Cuffing season is basically one mad dash to find a significant other so you can avoid those pity "you'll find love" pep talks from that aunt you see once a year. But this holiday season, might I suggest coupling up for the purpose of... breaking up. 
Home rental service Independent Cottages is giving away a free stay in an English cottage inspired by The Holiday and the only requirement is that you're newly single. Because FYI, if you haven't caught the Kate Winslet-Cameron Diaz led rom-com, that's the plot.
The heartbroken pair -- who reside on opposite ends of the pond -- decide to swap homes for Christmas in hopes of healing from their respective breakups. And while you might not necessarily fall in love with a hot British single dad like Diaz does (a girl can dream though), sipping mulled wine in the English countryside isn't such a bad consolation prize.
One lucky winner will score a three-night stay at Farthing Cottage in Cotswold. Not only does it look a lot like Winslet's fictional character's Surrey abode, it's also the real-life town where Kate, the actual celeb, lives. The home is situated just a short stroll from market town Stow-on-the-Wold, where you'll find quaint gastropubs, restaurants, and charming boutiques.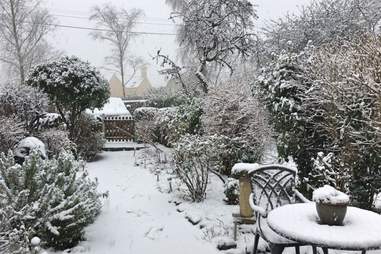 Courtesy of Independent Cottages
Courtesy of Independent Cottages
As if that weren't enough to mend your heart on the spot, the space is stocked with everything you need to get over your ex -- Prosecco, chocolate, matches for burning every photo you've ever taken together. OK, so the latter you might have to handle yourself, but the booze and sweets are provided.
The application process is easy. Just enter here and detail your heartbreak (maybe trash that ex of yours for good measure) before December 2. 
h/tInsider
Sign up here for our daily Thrillist email and subscribe here for our YouTube channel to get your fix of the best in food/drink/fun.