It doesn't come with Franck or pickup games of basketball with Steve Martin, but you can own the house from Father of the Bride for just $1.99 million. That doesn't even seem that crazy when you see how great the house is. And by great, we're talking about the spots that were in the movie still looking like they did in the movie, which was 25 years ago.
Situated about eight miles from downtown Los Angeles in Alhambra, California, it's the location of most of the house's exteriors shot in the film, though it's not the front of the house used in the film. 
The four bedroom house comes with four bathrooms, a 90-bottle wine fridge and a thing called a Batchelder fountain, which definitely doesn't have the swans from the movie. Those swans probably went to live on a farm, a real nice farm where they're fed the kind of things that swans eat. Seed, maybe. Wonder bread? Other swans?
Recommended Video
Is Dessert Pizza Really a Pizza?
The main exteriors shot at this home were the outdoor wedding scenes in the backyard and the scene where George (Martin) and Annie (Kimberly Williams-Paisley) play basketball in the driveway, putting a lump in the throat of fathers around the world.
The charming 1925 colonial house was also the setting for the 2005 film Guess Who. Though it has a 43 percent Rotten Tomatoes rating and most people would need to guess who was in it (Ashton Kutcher and Bernie Mac), it wasn't a small film at the time of release.
It looks like the kind of house where a family could come together during a rite of passage despite the mounting stress and hi-jinx that make it feel like it'll never finally, inevitably be everything they hoped for and more. And that's all anyone really needs to make a house a home, right?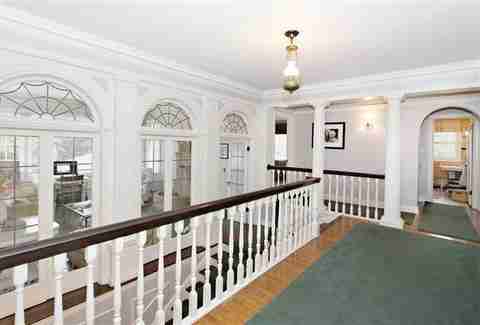 Listed by Ann Gluck of Compass