The only time you ever wield glow sticks and sparklers simultaneously might be at a rave on the 4th of July. Or, if also have a hydraulic press in your arsenal, you use these items together and conduct a deranged science experiment. 
That's what the hedonists at the Hydraulic Press Channel did for their latest stunt. As you'll notice, lighting one sparkler barely registers a sizzle, but crushing a bundle of the baby fireworks creates something of a fiery spectacle, albeit for a couple seconds.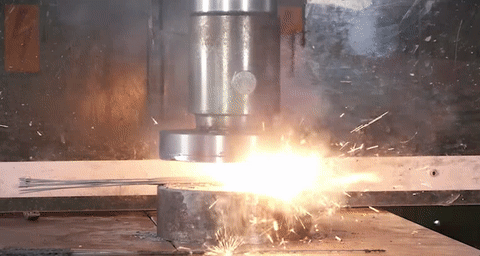 While that doesn't quite create a bang capable of rocking your ear drums, the glow sticks -- illuminated by a mixture of "dibutyl phthalate, hydrogen peroxide and phenyl oxalate ester," according to CNET -- gives the experiment a messier, technicolor feeling.