You Can Send a Totally Free Pint of Ice Cream to Someone You Love Right Now
You just became the hero of your next virtual happy hour.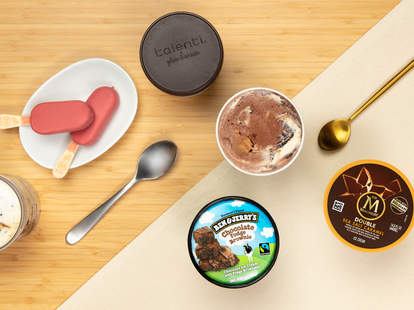 It's a weird time in the sense that many people want to give a lot of love to people around them, but, for many of us, it's never been more difficult to do so. The physical barriers alone make it logistically challenging.
The Ice Cream Shop is hoping to provide a simple way for you to do that. Starting on May 7, you can send someone you're missing a totally free pint of ice cream. You don't have to buy anything at all. You can just say "hello" with a frozen treat.
The free taste of spring is available through a partnership with the delivery service Postmates. Just add a friend's address into the Postmates app and search for The Ice Cream Shop. Drop a pint in the cart and enter the promo code "SENDAPINT." You're done, less for the delivery fee, which Postmates may still charge. (You should probably give your friend a heads up that ice cream is on the way so they don't send it back or get weirded out.)
However, the freebie is only available in 95 cities. You can live anywhere, but the person you're sending the ice cream to will have to be in one of those cities to get the perk. You'll just have to check inside the app when the deal is active.
You don't have to buy anything to send someone some ice cream, but there is a limited supply. There are different amounts in every market, but a representative said there are about 10,000 free pints available for you to send off to anyone you want. You're about to be the toast of the next Zoom happy hour.
Sign up here for our daily Thrillist email and subscribe here for our YouTube channel to get your fix of the best in food/drink/fun.
Dustin Nelson is a Senior Staff Writer at Thrillist. He loves ice cream, in case you needed to be sure before sending him ice cream. Follow him @dlukenelson.