The Internet Went Nuts for This Frying Pan That'll Cook Your Entire Breakfast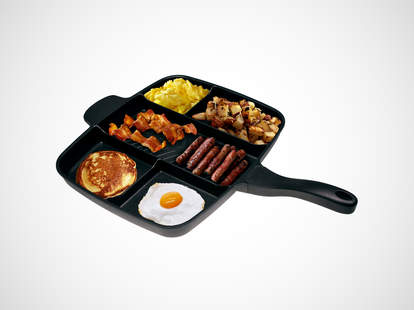 While the only wrong way to do the "most important meal of the day" is to not do it at all, you might just start questioning your approach to cooking breakfast if you've been using separate pots and pans for bacon, eggs, ham, hash browns, etc. this whole time. Thanks to people freaking out on the Internet, a new way of frying up your huge morning meal has emerged -- an all-in-one frying pan with brilliant divided compartments. 
Rightfully dubbed as the MasterPan All-In One Frying Pan, the 15in skillet is basically the Swiss Army knife of breakfast, featuring five separate compartments that will single-pandedly (sorry, we had to!) cook all of your important breakfast food groups like bacon, ham, sausage, eggs, and crispy potatoes. Obviously, you're not limited to cooking the breakfast of champions on the thing, seeing as it could be useful for dinners with lots of ingredients, too. However, it won't do anything to prevent your food from touching on your plate, if that bugs the crap out of you.
As reported by Mashable, the multi-compartment frying pan has soared in popularity on the Internet in recent days, thanks to a Facebook post by British Olympic swimmer Tom Daley. The photo shows Daley cooking a "full English breakfast for the American," a.k.a his fiancee, Dustin Lance Black. A quick look through the more than 1,200 comments on the post will quickly help explain all the hype.
While Mashable and commenters on Daley's post point to this British site's product page for the pan, it looks like it's available on Amazon.com -- for nearly $80. You can also buy it directly from the company on its website, but it's a few dollars more. Or, you can just keep all that money and spend it on more important things like bacon, bagels, and champagne for mimosas like a normal person.
Sign up here for our daily Thrillist email, and get your fix of the best in food/drink/fun.
Tony Merevick is Cities News Editor at Thrillist and just doesn't have time to cook a big breakfast like this in the morning. Send news tips to news@thrillist.com and follow him on Twitter @tonymerevick.