The World's Most Expensive Flight Costs More Than a Year of College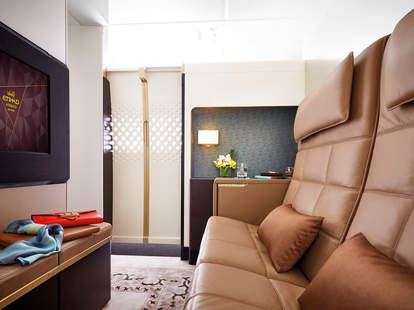 Courtesy of Etihad Airways
Sure, flights are expected to be slightly cheaper this summer, but shelling out hundreds and sometimes thousands of dollars for economy-class commercial air travel is a huge expense for most people. A new flight connecting NYC to Mumbai aboard Etihad Airways, however, might actually be too expensive for the even the world's wealthiest of flyers, or as Bernie Sanders likes to yell, "the top one-tenth of one percent!" 
The airline recently announced a new route between the two financial hubs via Abu Dhabi, and according to a report by Mashable, a ticket for a seat in a private luxury suite is now the most expensive plane ticket in the world. OK, OK, so how much does it cost? Brace yourself, folks. A one-way fare for the lavish suite on its fleet of five Airbus A380s, known as The Residence, will set you back about $38,000. In other words, you could pay less for a new Tesla Model 3 than one flight in one direction. Totally sounds worth it, right?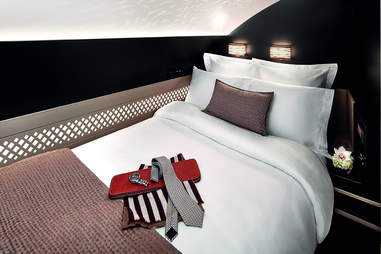 Well, here's what 38,000 bucks gets you: an "ultra-private," three-room suite that features a swanky living room with a 32in TV, a bedroom with a double bed covered in fine Italian linens, and your very own bathroom with a shower. Oh, and you'll also get your own damn dedicated butlerand a freaking private chef to serve you a "custom" menu throughout the flight. They'd better be willing to wipe your ass and spoon-feed you lobster-coated authentic wagyu beef steaks, but hopefully not at the same time -- although, for that price... 
With the stop in Abu Dhabi, the flight can take anywhere from 19 to 21 hours. Still not sold on spending more for a flight than a year of your college education? Well, the below video tour of the Residence might convince you. And by might, we mean there's no way in hell.
Sign up here for our daily Thrillist email, and get your fix of the best in food/drink/fun.
Tony Merevick is Cities News Editor at Thrillist and can't feels like building a plane out of $100 bills might be more cost-effective than this. Send news tips to news@thrillist.com and follow him on Twitter @tonymerevick.