The Museum of Dog Exists and It's Opening in NYC in February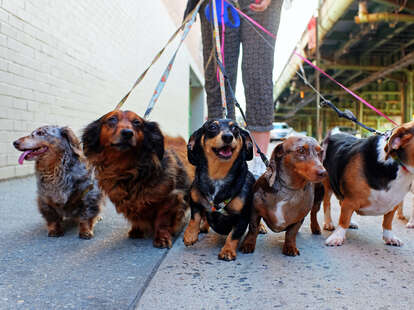 If you've ever been on a dating app, you know that yammering about how much you love dogs is the great unifier of the human race. But it's easy to talk a big game about your devotion to your domesticated pseudo-wolf; it's another thing entirely to make a pilgrimage to a museum entirely devoted to the furrier among us. And that museum exists, so get packing.
The point is, the American Kennel Club Museum of the Dog is set to open (again) on February 8. USA Today points out that that's a few days before the Westminster Kennel Club Dog Show, so you could plan quite a trip around this.
The museum will be located right by Grand Central Station, in the Kalikow Building at 101 Park Avenue, and according to a press release will house "one of the world's largest collections of canine fine art" by artists like Sir Edwin Landseer, Maud Earl, and Arthur Wardle. In addition to the "several hundred paintings, drawings, watercolors, prints, sculptures, bronzes, and porcelain figurines," there's a library.
The first exhibition is entitled "For the Love of All Things Dog," and the two-floor space will also feature interactive exhibits like the "Find Your Match" kiosk that aligns your picture with a dog breed and the "Meet the Breeds" touchscreen table that will teach you about the traits and history of different breeds in the collection. There's also an app that lets kids interact with the exhibitions along with "Arty," a virtual dog/tour guide.
The museum was in New York City 32 years ago, but it had moved to West St. Louis County, Missouri. Now it's back (in a much more convenient location), and admission will run $15 for adults, $5 for children under 5, and $10 for senior citizens, students, veterans, and active military. Naturally, there will also be a gift shop.
"It is exciting to bring this collection back to New York City," Alan Fausel, Executive Director, AKC Museum of the Dog, said in the press release. "This Museum is a beautiful ode to man's best friend and we are thrilled to bring these pieces and exhibitions to new audiences."
And honestly, this would probably be a fun date.
h/t USA Today
Sign up here for our daily Thrillist email and subscribe here for our YouTube channel to get your fix of the best in food/drink/fun.