New Law Would Require All Plant-Based Meat to be Labeled 'Imitation'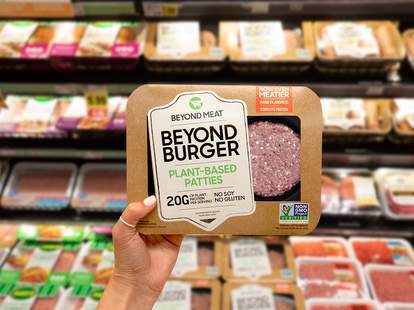 Courtesy of Beyond Burger
Plant-based meat alternatives are popping up everywhere -- grocery aisles, upscale restaurants, your favorite fast food joint. And as beloved as these vegan burgers have become, the striking parallels to the real thing (they look, taste, and even bleed like beef patties) have also caused a bit of controversy, particularly among traditional beef interests. 
So much so that federal lawmakers are pushing a bill called the Real Marketing Edible Artificials Truthfully Act, aka the Real MEAT Act, that would require all vegan beef products (like the Impossible Burger, Beyond Burger, etc.) to be labeled "imitation." The move is intended to eliminate "confusion" and "ensure that consumers can make informed decisions in choosing between meat products such as beef and imitation meat products." 
Eater reports that Democratic Rep. Anthony Brindisi from rural New York and Republican Rep. Roger Marshall from Kansas are behind the bill, which was introduced in Congress on Monday. "American families have a right to know what's in their food … Accurate labeling helps consumers make informed decisions and helps ensure families have access to a safe, abundant, affordable food supply," Brindisi said in a statement by the United States Cattlemen's Association and obtained by Food Dive. 
It seems like this might be a bit of an overreaction, though. According to a survey conducted by the International Food Information Council, despite a similar argument surrounding the word "milk," we're apparently smart enough to realized plant-based milk is just that: plant-based and sans dairy.
"This bill is a bald-faced attempt to get the government to police food labels to benefit the conventional meat industry, not consumers," the Good Food Institute, a nonprofit advocating for these vegan alternatives, told Food Dive. "Rather than let consumers decide the winners and losers in a free marketplace, this bill attempts to stigmatize plant-based foods."
This kind of feels like legislators are making a mountain out of a mole hill, but ¯\_(ツ)_/¯.
h/tEater 
Sign up here for our daily Thrillist email and subscribe here for our YouTube channel to get your fix of the best in food/drink/fun.
Megan Schaltegger is a staff writer at Thrillist. Follow her @MegSchaltegger.