Aside from graduating with a degree that might have questionable use in the job market, attending a four year university might leave you saddled with overwhelming debt. Yay America! The United States' student loan bill hovered around $1.3 trillion as of January, which is enough to dash the dreams of any idealistic young graduate. 
But different states form the crux of America's student loan issue, and graduating with a degree from a public school in Alabama might leave you with a different median loan bill than graduating from a similar school in Nebraska. So to figure out which states have the highest and lowest median student debt, the careers site Zippia crunched some data from the Department of Education and created this map. 
Zippia combed through data in the DOE's College Scorecard, which compares universities' debt levels, accreditations and other criteria. It turns out that South Carolina is the worst state for debt-weary students, as graduates usually leave school with $26,535 in the hole. Rounding out the top five worst states are Pennsylvania ($26,083), Alabama ($25, 917, Ohio ($25,847), North Carolina ($25,590).
Here's how the complete 50 state list shakes out: 
Recommended Video
This Restaurant Offers 50+ Garlic-Infused Dishes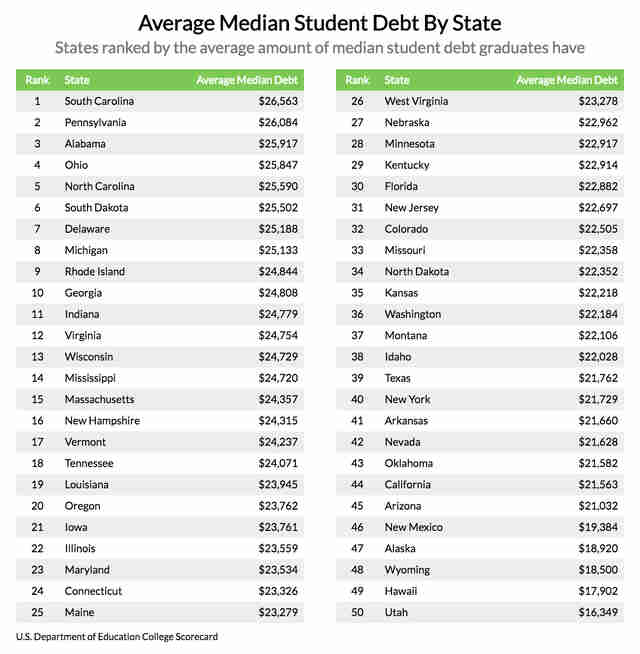 One caveat regarding the data that Zippia was quick to point out: "The average median student debt by state does not represent the state median, but instead is an average of medians of colleges in that state." This means that plenty of graduates enter the workforce with remarkably higher debt levels than the university medians. To give you an idea, the average debt level for class of 2017 graduates was $39,400.
So if you want to change the situation, like anyone else with a desire to enter the workforce with the prospect of saving money, maybe try voting some highly paid politicians out of office. 
 
Sign up here for our daily Thrillist email and subscribe here for our YouTube channel to get your fix of the best in food/drink/fun.