Here Are The Top 20 European Cities For American Travelers This Summer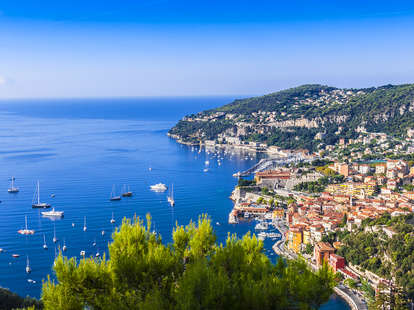 When it comes to European travel, Americans are a predictable bunch. Instead of exploring the lesser-trodden deep cuts that promise untold natural beauty, you're probably just going to board a discount flight to a major European capital (which is totally fine!). So in case you don't mind bumping elbows with your compatriots on foreign soil, insurance firm Allianz Global Assistance compiled a list of the most popular European cities that American travelers are visiting this summer.
Looking at trips booked from the US to Europe between the Memorial Day and Labor Day weekends, the data paints a pretty familiar picture, rife with all the imagery of winding cobblestone streets and sunny afternoons spent swilling sangria or rosé. London, England is the pick of the litter, claiming the top stop in this year's data. This isn't surprising because it's sometimes hard to be the sheepish, monolingual American in a place like the Basque Country. Paris came in second, but a newcomer managed to sneak into third place: Reykjavik, Iceland, with it's proximity to perhaps the most mystical vistas in Europe and a landscape basically culled from Game of Thrones, is fast becoming a favorite. (Plus, it's cheap as hell to get to these days).
So without further ado, here's the list:
1. London, United Kingdom
2. Paris, France
3. Reykjavik, Iceland
4. Rome, Italy
5. Amsterdam, Netherlands
6. Dublin, Ireland
7. Barcelona, Spain
8. Athens, Greece
9. Madrid, Spain
10. Frankfurt, Germany
11. Nice, France
12. Zurich, Switzerland
13. Edinburgh, United Kingdom
14. Milan, Italy
15. Munich, Germany
16. Prague, Czech Republic
17. Venice, Italy
18. Berlin, Germany
19. Copenhagen, Denmark
20. Florence, Italy
If this serves as any kind of Euro-trip instruction manual, it might be the one with the most college football fans involved. But then again, there'll always be hidden gems adjacent to the big cities that you should always consider.
h/t [Travel + Leisure]
Sign up here for our daily Thrillist email and subscribe here for our YouTube channel to get your fix of the best in food/drink/fun.
 
Sam Blum is a News Staff Writer for Thrillist. He's also a martial arts and music nerd who appreciates a fine sandwich and cute dogs. Find his clips in The Guardian, Rolling Stone, The A.V. Club and Esquire. He's on Twitter @Blumnessmonster.