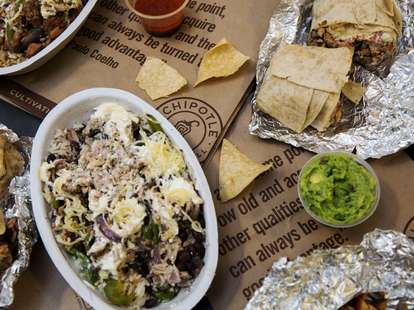 Laura Murray/Thrillist
Laura Murray/Thrillist
If you haven't hit up your local Chipotle for a big-ass burrito in a while, well, it looks like you're not alone. Adding to the bad news surrounding a series of majorfood-borne illnessoutbreaks connected to its restaurants last year, the company said Wednesday it has seen a major decline in sales in recent months and is now being investigated by the federal government.
As Forbesreports, Chipotle said it expects to see a 14.6% drop in comparable sales in the fourth quarter, which is worse than the 8% to 11% dent in sales it had previously expected to brace for in the aftermath of the recent outbreaks and the resulting negative headlines. In fact, the company said sales dived by 30% in December after sliding by 16% in November. Unsurprisingly, Chipotle's stock is suffering, following the news.
But the burrito-purveyor's problems don't end there. Chipotle also said it's the subject of a criminal investigation by the U.S. Food and Drug Administration's Office of Criminal Investigations in connection with an August incident involving norovirus at one of its locations in Simi Valley, CA. The company was served a federal grand jury subpoena in the case, according to the magazine's report.
It was only last month that the Centers for Disease Control & Prevention (CDC) said it is investigating what it believes to be a second E. coli outbreak linked to the burrito chain's restaurants. Health officials at the agency have yet to say whether the outbreak is related to one that was previously identified, which has sickened 53 people in nine states. But given Chipotle's devoted following, it's difficult to imagine the chain's troubles continuing much longer.
Sign up here for our daily Thrillist email, and get your fix of the best in food/drink/fun.
Tony Merevick is Cities News Editor at Thrillist and could actually go for a burrito right now. Hmm. Send news tips to news@thrillist.com and follow him on Twitter @tonymerevick.