Feces is quite literally the most stigmatized and shame-ridden bodily function, but when coupled with scientific inquiry and an eye for compelling design, poo can break free of its taboo status and become breathtaking, eye-stinging art.
Enter the "Shit Museum," or Museo Della Merda, a literal research facility-cum-poo-repository that converts lumps of pungent cow dung into pottery and luminescent science projects, located in a rural stretch of northern Italy 62 miles outside Milan.
Recommended Video
Thrillist's Best (and the Rest): What You Actually Need to Know About Natural Wine
Established in 2015 inside a medieval castle, the Shit Museum makes positive use of the manure surplus produced by the 3,500 cows on founder Gianantonio Locatelli's dairy farm, which also supplies 55 tons of milk a day to the Grana Padano cheese company. Ironically, Locatelli salvages all the waste for various projects -- his farm extracts methane to produce electricity, which is then sold alongside the museum's signature brand of fertilizer -- but nothing quite matches his famed "Merdacotta" artifacts, which are elegantly assembled from repurposed shit.
A playful riff on the terracotta style, Locatelli and architect Luca Cipitelli alter the poo nuggets to make tableware, furniture, pots and vases, mixing their primary ingredient with Tuscan clay for an authentic finish. The Merdacotta variant -- which literally translates to "baked shit" in English -- has earned plaudits in the design world, as the duo won an award at Milan Design Week last year.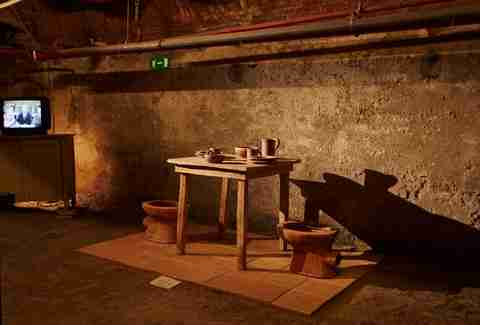 But household wares made of harvested cow droppings aren't the only thing the museum does. Past exhibitions include a bioluminescent display of glowing green lanterns, all powered organically by methane and modified bacteria, as New Atlas explains. 
Locatelli told the AFP that shit is pilloried for all the wrong reasons. "Excrement is seen as something vulgar, nauseating, as the most ignoble matter," he said, noting that he wants to "rehabilitate the word and transform opinions of it across the board."
Clearly a firm believer in the circle of life, Locatelli is a fine poop innovator.
Sign up here for our daily Thrillist email, and get your fix of the best in food/drink/fun.