With holiday party time upon us, everybody in the working force is gearing up to make some truly terrible alcohol-fueled decisions with their co-workers. After a huge survey by British smut-purveyors, Ann Summers, showed us that 39% of office workers admitted to having sex at the company Christmas party, the next viable question that popped into mind was: where? 
Good question, and here are some good answers — translated, for clarity, from British English to 'Murican English. 
1.      The parking lot (25%)
2.      The conference room (21%)
3.      A storage closet (18%)
4.      The boss's office (16%)
5.      On your desk (15%)
Recommended Video
Get Lucky With This Next-Level St. Paddy's Day Meal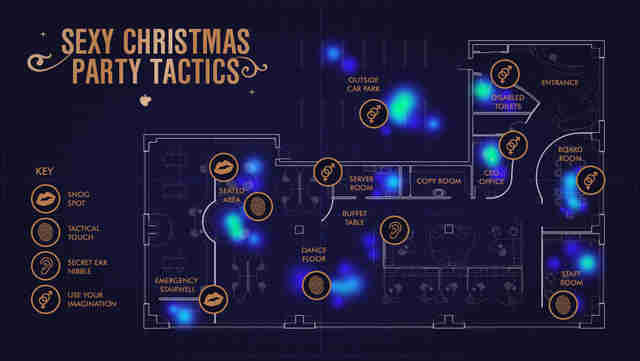 As if you needed more of a reason to tongue-punch the bangin' receptionist, allow this handy map to show you the best places to get your motor running. 
The study goes on to say that "one in 10 people also revealed that they had had sex in the office canteen and 8% have even risked the office pool table."
Um, what? Office pool table? Canteen? Where is the British workforce based? A dive bar on Tatooine? 
Sign up here for our daily Thrillist email, and get your fix of the best in food/drink/fun.
Jeremy Glass is a writer for Thrillist and never dips his doughnut in the company frosting.