These Are America's Least Stressed Cities
If the pending suspension of the L train in Brooklyn or the Uber shut down in Austin or the welcoming of wildlings south of the Wall has your stress out of control, maybe it's time to consider a move to a more chill city. A new survey from SmartAsset can help. It pinpoints the least stressed cities in the U.S.
Much like the 2015 edition of the survey, there are a lot of easy-going cities in the upper midwest. Though, this year's results branch out a bit more, with cities in Montana, Missouri, and Arizona hitting the top 10. But the concentration is still in that sweet, corn-filled mecca of topographically challenged tundra.
To create the list, SmartAsset compiled a number of positive and negative factors, including "high rate of physical activity, a high number of entertainment establishments per 1,000 businesses, and a high average number of hours of sleep per night." For the negative factors, the survey weighed "hours of work per week, length of commute to work in minutes, the unemployment rate, the bankruptcy rate, the ratio of housing costs to median income, and the divorce rate."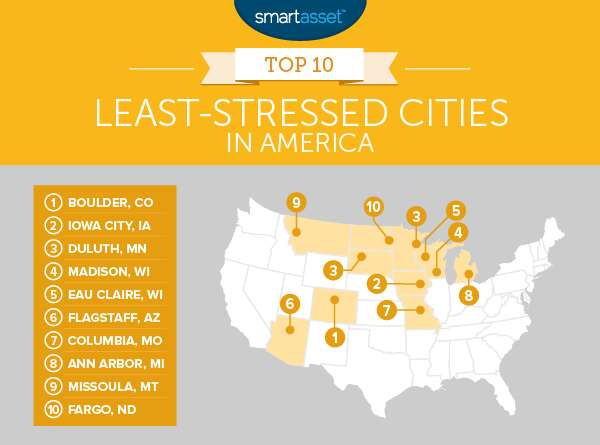 Topping the list was Boulder, Colorado. It jumped from fourth in the 2015 list to most relaxed city in the country, and it getting higher on the list didn't even factor in that the city can actually get high legally.
Also notable is that Wisconsin is the only state with two cities in the top 10. In fact, both Madison and Eau Claire rank in the top five. It's all that Bon Iver they're getting in Eau Claire that put them up to number five after not even being ranked in the top 25 last year.
At the bottom of the list, there's lots of Florida going on. Miami, Miami Gardens, Pompano Beach, and Hialeah all rank in the bottom 10. New Jersey is the only other state with at least two cities in the bottom 10 (Newark and Union City).
Once the survey branches out into the top 25, more states outside of that initial concentration pop up. California, Texas, Utah, Illinois, North Carolina, and New Mexico are among the states that get some love in that grouping.
Now that you've got this in a nice, easy to peruse list, no need to go full Howard Beale. Just pack up your stuff for the easy living of Iowa City. You'll be problem free until the next presidential primary.
Sign up here for our daily Thrillist email, and get your fix of the best in food/drink/fun.
Dustin Nelson is a News Writer with Thrillist. He was recently in Eau Claire, WI and recommend you stop by Taco Juanitas if you're ever driving past the city on I-94. Damn good burritos. Follow him @dlukenelson.