These Baked Goods Could Make Coffee Obsolete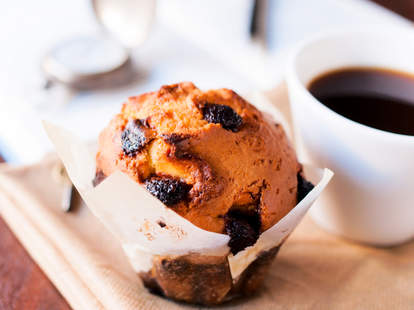 Forget about taking your coffee black, or with cream and sugar. In the not-so-distant future, you might just consume your coffee caffeine fix with chocolate chips, or blueberries, or maybe even with sprinkles -- in the form of freaking baked goods. Thanks to a researcher at Brandeis University near Boston, there's now such thing as coffee flour, and well, your morning muffins, donuts, and other pastries will never be the same.
Developed by Dan Perlman, a biophysicist who helped create the blend of "healthy fats" in the Smart Balance buttery spread, coffee flour is made during a patented process in which green (pre-roasted) coffee beans are partially baked and then milled into a flour that can be used for baking. In addition to making caffeinated baked goods possible, Perlman claims the flour actually provides even more health benefits than a cup of liquid coffee because crucial antioxidants are often lost in the traditional roasting process. His "parbaked" method helps retain chlorogenic acid (CGA), an anioxidant in the beans, according to a university press release. With that said, the flour can't be used to make a cup of coffee.
As for the flour's flavor, Perlman describes it as "nutty, pleasant, and mild," but perhaps more importantly, it's damn strong when it comes to the caffeine payload. "This flour contains 2.5 percent caffeine by weight, so if you were to put 4 grams of this into, say, a breakfast muffin, it would be the equivalent of drinking a cup of coffee," he told Eater. Ultimately, Perlman suggests the flour could be used in things like snack bars, cereals, soups, juices, and nutritional drinks, among other caffeinated goods. So far, there's no word on when such products will appear at your local coffee shop, but really, just take our money...
Sign up here for our daily Thrillist email, and get your fix of the best in food/drink/fun.
Tony Merevick is Cities News Editor at Thrillist and really didn't need another reason to break down and eat baked goods, but thanks. Send news tips to news@thrillist.com and follow him on Twitter @tonymerevick.