Bandit Steals 180-ft Inflatable Obstacle Course, Will Probably Throw Cool Party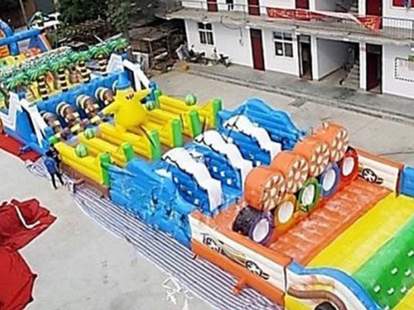 A hallmark of many childhood birthday parties and afternoons spent screaming your tiny vocal chords into exhaustion, inflatable obstacle courses are cool as hell. An enterprising thief in Phoenix probably had fleeting childhood memories in mind while stealing one on Sunday, hauling the monstrous, 180 foot "Super Mega" course away and presumably into the sunset, toward an insanely fun party with many great snacks.
The Arizona Republic reports that Party Professionals Inc. noticed its obstacle course missing on Sunday morning, along with the trailer it was attached to, meaning that it was probably stolen in the deadened evening hours. After all, these things don't just vanish, especially when they're this big: The "Super Mega" inflatable obstacle course stretches for 180 feet and is 25 feet wide. It's also a coveted item in Arizona, as it's valued at $35,000 and is the only obstacle course of the "Super Mega" ilk in the entire state, according to police.  
Local authorities were quick to note that because of the missing course, many children's birthday parties are going to suck this summer:
There's a $1,000 reward for anyone who spots the obstacle course in the wild, or can provide intel on its whereabouts. Authorities might need to increase that figure though, as anyone hauling this much contraband will most likely conceal it from eight-year-olds everywhere.
Sign up here for our daily Thrillist email, and get your fix of the best in food/drink/fun.
Sam Blum is a News Staff Writer for Thrillist. He's also a martial arts and music nerd who appreciates a fine sandwich and cute dogs. Find his clips in The Guardian, Rolling Stone, The A.V. Club and Vice. He's on Twitter @Blumnessmonster.