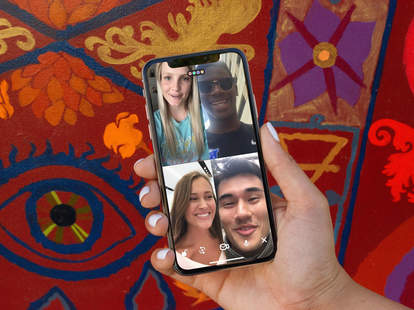 50 Fun Things You Can Do at Home Right Now in Quarantine
Stream these shows and movies, play games, chat with friends, cook up some comfort food, and stay entertained while you're safe at home.
Thrillist is all about eating, drinking, seeing, doing, and getting out in the world. And, although there isn't anywhere to go at the moment because of the coronavirus pandemic, there are still plenty of things for you to eat, drink, see, and do. They just look a little different right now.
Like everyone fortunate enough to be able to self-isolate or quarantine until it's solidly safe to socialize once again, we've been thinking a lot about how to make the best of our present situation, do more with less, and "stay safe and sane," as every email signature now reads.
So, until you can sidle up to the bar, check out a new restaurant, board a plane, go dancing, see a concert, catch a movie, or simply hug a friend, we've got your virtual approximations and other distractions right here. Join us in staying together apart -- until we meet again.
Host a virtual group hang
There's more to life than water cooler gossip and happy hour, but weeks of social distancing can be taxing. And since we're in the golden age of remote everything, there are plenty of ways to keep in touch, no touching required. Check out our guide to the best group video chat apps and get to gabbin' with your bestie, family, and maybe even that work frenemy you roll your eyes at when they forget to unmute themselves.
Restock your bar
Now is not the time to run out of booze. If your local wine shops and liquor stores don't deliver, services like Drizly, Minibar, and Winc will keep you up to your eyeballs in Quarantinis for those long hours between coffee time and bedtime.
Make your own ShackBurger
It's great to see everyone's sourdough starters, poached lobsters, and damn cherries jubilee littering Instagram, but some folks need an easier intro to the kitchen. Shake Shack's 8-pack DIY burger kits provide familiar flavors, and a little something to do. They'll probably look good on Instagram too.
Check out (or argue about) the best TV shows of 2020 so far
Plenty of excellent programming hit streaming services and the good old fashioned airwaves just in time for the world to slow down. See Thrillist's selections for the best of the best (plus Westworld), see if your picks made the list, and get to watching.
See one of the sky's most famous constellations through early May
Orion the Hunter is one of the most recognizable star formations visible from terra firma, but it'll disappear from view throughout the United States in early May. Get a little fresh air (even if it just means sticking your head out the window) and see if you can spot the three notches on the old man's belt. Check out the rest of our stargazing coverage here.
Take select MasterClass courses for free
We, too, are fatigued of hearing goopy celebrities tell us to master Latin or whatever while in isolation, but staying sharp helps keep the scaries at bay. Learn about cosmetics and beauty, interior design, gardening, and baking from folks at the top of their fields who'd otherwise command a pretty penny for their knowledge.
COURTESY OF AIRBNB
Book an Airbnb trip without having to sleep in someone else's bed
Nonessential travel feels like a vestige of the distant past, but you can still see the world -- sort of -- by way of Airbnb's Experiences platform. You can take virtual excursions to see the dogs of Chernobyl, meditate with a Buddhist monk, or take in an Argentinian tango contest for far less cash than you'd spend actually getting there.
Play remote drinking games
We know you, an adult, don't need an excuse to imbibe, but these online drinking games may make you feel a little less like you're drinking alone. And you wouldn't want that freshly-stocked bar to start collecting dust.
Meditate to a creamy queso video
Perhaps as proof we are running out of novel forms of self-care, Moe's Southwest Grill has created a video where a disembodied hand languidly dips a chip into a to-go container of queso, melty cheese yielding to its delivery mechanism. For eight hours. It's as long as a healthy night's sleep and almost as relaxing.
Catch all of this month's stargazing events
Our skies are more clear than ever, so now's the best time to start playing amateur astronomer. Tune into the heavens all month long and pay special attention before down on May 14 when you can see Mars and the moon, together at last..
Learn to make some of Disney's famous foods right in your own home
Turn your kitchen into the happiest place on Earth with Disney Parks' recently released churro bites and Dole Whip recipes. Eat 'em on top of the washing machine for that teacup ride effect.
Gather your friends for a virtual game night
Don't let quarantine snuff your competitive spirit. Choose from our list of multiplayer apps and challenge your pals to bouts of Scrabble Go, Mario Kart Tour, or the most divisive game of all -- Monopoly.
Take a free online photography course and document your isolation
This might not be an era any of us wants to remember any time soon, but it is inarguably historic. Learn how to document every strange moment with free classes from Nikon, the Professional Photographers of America, Fujifilm, and Adobe Photoshop.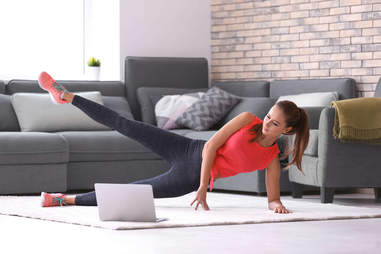 SHUTTERSTOCK
Get physical
Anyone boasting about a #quarantinebod (OR ANY VARIATION) once this is over should be launched into the sun, but keeping active can't hurt. These virtual fitness classes will help you keep up your strength and ease a bit of that cabin fever.
LOL at the funniest shows on Netflix
You could spend an hour before bedtime scrolling, searching, and praying to the Netflix gods for just the right thing to watch, or you could consult our guide to Netflix's funniest shows. Then use all that time you saved streaming more hilarious content.
Daydream about your next island vacation
Many travel plans have been rightfully canceled this year, but a little dip into fantasy never hurt anybody. Open the window, mix up a mai tai, and peruse these photos of beautiful vistas in French Polynesia, Mexico, Croatia, Malaysia, and Spain, and imagine a future when you can actually feel the sand between your toes.
Tune into YouTube's best cooking channels
Once you've mastered the art of assembling meal kits, these cooking tutorials and demonstrations will help you advance to the next level. And even if you aren't ready to start wielding a knife, the chop chop chop of steel on a cutting board can be strangely soothing.
Help save the ocean's corals by playing a video game
Add 'NASA volunteer' to your Tinder profile and help save our coral reefs when you play NeMO-Net -- an Apple-only game where you find and identify everything under the sea like some kinda sexy science mermaid.
Hack those boxed brownies for unique treats
Boxed brownie mix is excellent before it even hits the oven -- superior to its cake batter and cookie dough kin. But you can jazz it up even further with these three simple hacks.
Elevate your iced coffee game and learn how to make a proper cold brew at home
Cold brew is more than just the leftover java rapidly cooling in your Chemex -- it's a sophisticated alternative to your garden variety iced coffee. Sure, both will get you plenty wide-eyed, but turn to this tutorial when you're ready to level up your caffeine consumption, or just need something to do with your hands when you're over-caffeinated.
Berlin's DJ Mira prepares for a live-stream set on March 20, 2020. | JOHN MACDOUGALL/CONTRIBUTOR/AFP/GETTY
Visit Berlin's famed club scene without committing to a cool haircut
Electronic music hums through every corner of Berlin, and it's obviously at its peak in the city's famous clubs. Now you can catch some of the city's famed DJ sets from the comfort of your sofa. BYO glow sticks.
Learn TikTok
Put a finger down. CEO of. But I'm shy. What does it all mean? These are all memes from the wonderful world of TikTok. Sure, nobody wants to get too attached to a new social media platform before it goes the way of Vine, but now might be a good time to get on board before your virtual FOMO sets in.
Sing along to TikTok's top tunes
Once you're familiar with TikTok's memes, get ready to meet its musical kings and queens. It's unlikely you'll find any of these tunes at your neighborhood karaoke bar if that's still a thing when all this is over, but your whole living room is a karaoke bar now. And you don't even have to wait your turn.
Figure out Quibi, why not?
Quibi is the short-form streaming service dividing the internet. Its name shakes out to "quick bites," -- "snackable" shows that run 10 minutes or less. It's attracted a lot of bold names like Liam Hemsworth, Queen Latifah, Eva Longoria, Laurence Fishburn, and Chrissy Teigen. And right now you can get a 14-day free trial so who knows, you might just run out of content before your time's up.
Dust off those board games and get ready to rumble
If you're blessed (cursed?) enough to be in quarantine with others, pass the time with some board games like you're at an elementary school sleepover! Anything you have collecting dust in the closet will do, but our game recommendations (and info on where to order them) are among the finest available.
Immerse yourself in another reality with documentaries
Just think, some day future streaming services (or maybe even Quibi!) will be flooded with docs about this very moment. Until then, host your own private screening of this year's best documentaries and docuseries.
Beyoncé at Coachella in 2018 | LARRY BUSACCA / GETTY IMAGES ENTERTAINMENT
View iconic music festivals on YouTube
Concerts, tours, and festivals have been canceled worldwide, with no indication of when they might return. But you can still see footage from performances from all over the globe dating back to the 1960s. Sure, you're viewing 'em through a screen, but these shots are closer than you ever would have gotten anyway.
Find out which celebrities are just like us on social media
Celebrities! What are they up to when they aren't swinging and missing at inspiration? Why, they're telling tales and reading books aloud on Instagram, tweeting about Tiger King, and dancing on TikTok. See our list of who to follow when you don't need to hear a multi-millionaire telling you to write the Great American Novel while you WFH and do dishes all day.
Have a group movie night
If the idea of going to the movies or even having people over for a Marvel marathon sends a chill down your spine colder than theater AC, Netflix Party's just the ticket. See how to download the Chrome extension and invite your friends to a virtual screening. You won't even have to share your snacks.
Become a publishing magnate with your very own zine
Believe it or not, it is still possible to distract and express yourself offline -- with a zine! Zines are scratch-made print pubs that you can create with anything you have on hand. And don't worry; you can always share your excellent work on social media later. Now all you need's a title. If only something rhymed with zine...
See the world via YouTube's best travel shows
YouTube's bottomless pit of content can be hard to sift through. So we did it for you! Check out our picks for the platform's best travel shows and remember that you are still living in a great big world.
Grow a little garden
Even if all you've got is a windowsill, you can still bring some green into your space. There are tons of veggies you can regrow out of kitchen scraps, and our expert guide details how to branch out to more ambitious plant projects.
Unleash your inner master drawer
Odds are you've got some kind of writing instrument and some kind of blank paper lying around, so why not bring 'em together and learn to draw with these free online drawing classes?
Get crazy like a kindergartener with coloring books
Once you've perfected the art of laying pencil to paper, break out those crayons, markers, colored pencils or whatever you've got and get to coloring with these free online adult coloring books. You don't even need to stay inside the lines.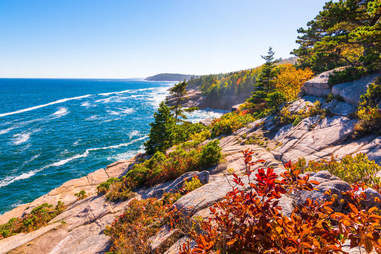 Acadia National Park | SHUTTERSTOCK
Climb aboard Google Earth and tour our national parks
Peer through your computer screen for a glimpse of wilderness at 31 locations like Yosemite, Yellowstone, and Grand Canyon National Park. Track in a little dirt after you check the mail and it'll be almost as though you're in the great outdoors.
Make a giant cosmo like Ina Garden
The Sex and the City gals never dared dream as big as Ina Garten, who captivated the cocktail-drinking world when she made a gigantic morning cosmo in an Instagram video. Ina's assertion that "it's always cocktail hour in a crisis" is a welcome update to the old "it's five o' clock somewhere" day drinking justification.
See 30 World Heritage Sites all in one sitting
This Google Earth jaunt takes you on a trip around the world. Have a gander at Stonehenge, the Taj Mahal, the Great Sphinx, and more than two dozen other majestic sites.
Listen to our podcast, please
We know everybody's out here with a podcast, but only "Thrillist's Best" handily weaves between such disparate topics as how pro athletes use cannabis for performance, how to cook a great steak in the microwave (?!), and what comforting TV shows you can watch right now.
Order up some free and discounted food
Free fries from Steak 'n Shake, free sandwiches from Jimmy John's, eight chicken nuggets for $1 at Burger King, free honey butter chicken biscuits with purchase at Wendy's, buy a dozen, get a dozen doughnuts at Krispy Kreme -- check out our round-up of free and discounted food deals and collect 'em all.
Take a virtual stroll through world class museums
Museums all over the globe are closed to crowds and travel remains highly inadvisable, but you can still take a peek at the works of art in NYC's Museum of Modern Art, London's Tate Modern, the Louvre in Paris, and Washington, DC's National Gallery of Art.
Learn your CBDs
What is CBD? Is it legal where I live? How does it work? Does it work? What are the best CBD tinctures, edibles, mints, balms? Idfk, let's learn together.
OSCITY/SHUTTERSTOCK
Teach good boys and girls a few tricks
Whether you're one of the late adopters who contributed to increased pet rescues, you're looking to teach your old dog new tricks, or you just want to see cute pups learn a thing or two, these online dog training classes are a barking good time. People say that, right? ¯\_(ツ)_/¯
See the northern lights from wherever you are
Late winter is the best time to see the aurora borealis, but tune into this live stream to see what natural wonders are crackling in the skies above Sweden, Iceland, or Manitoba.
Tune into a Bob Ross marathon every weekend on Twitch
Dust off your paint set and play along, or just kick back and let the master of happy little trees himself slake your anxiety with his dulcet instructions, soothing brushstrokes, and inimitable '80s style.
Have happy hour with the pros
Nobody's going anywhere, so when your friends run out of things to contribute to the Zoom happy hour, have virtual drinks with winemakers, brewers, bartenders, chefs, and other fine folks from the food and drink world.
See cute animals be cute
It wouldn't be the internet and we wouldn't have a things-to-do round-up without the requisite cuddly creatures. See 'em all right here and marvel at the majestic lion, party with penguins, and pay your respects to the naked mole-rat.
SHUTTERSTOCK.COM
Browse thousands ebooks, magazines, and comics for free
If you didn't start on that pile of New Yorkers or those half-finished classic novels from college before All This, you aren't going to dig into them now. Instead, make like the distracted boyfriend meme and browse new-to-you titles, all for free.
Hit the beach
Ha ha. Ha. We really had you for a minute there, didn't we. No, we know you're a good and responsible person who will not undermine these days, weeks, and months in isolation for a quick trip to the shore, but it's good to laugh again. Reward your prudence with these virtual tours of some of the most beautiful beaches in the world.
Support your favorite restaurants and bars from afar
The future of the restaurant and bar industry as we knew it is uncertain. But we do know that restaurants and bars, the employers of your favorite bartenders, servers, and cooks, are in desperate need of immediate cash. Visit Thrillist Serves and order take-out, buy merch or gift cards for future use, make a donation, or do whatever you can to lend a hand to venues in need.
Order iconic regional foods nationwide
This is, in many ways, a nation of transplants. Wherever you're from, and wherever you are right now, odds are there's a little local cuisine that would be particularly comforting to you or your friends near and far. Check out our guide to the best spots shipping iconic NYC, Mid-Atlantic, Midwestern, and California foods from coast to coast.
Sign up here for our daily Thrillist email and subscribe here for our YouTube channel to get your fix of the best in food/drink/fun.