Continuing the time-honored tradition of celebrating the holidays with a gingerbread White House that's bigger than your actual house, First Lady Michelle Obama recently unveiled this year's staggeringly huge cookie-and-candy replica of the presidential residence, weighing in at nearly 500lbs. The sugary structure is guarded by nutcrackers from an elite division of the Secret Service, of course.
Designed by Executive Pastry Chef Susan Morrison, the enormous confection includes both the East Wing and the West Wing of the White House for the first time, according to a report by CNN. But what's probably the most striking difference from previous years is an exterior coating of dark chocolate instead of white chocolate, which really just makes the whole thing look even more delicious. Additionally, it appears that a candy Santa and his reindeer were granted special clearance to land on the roof.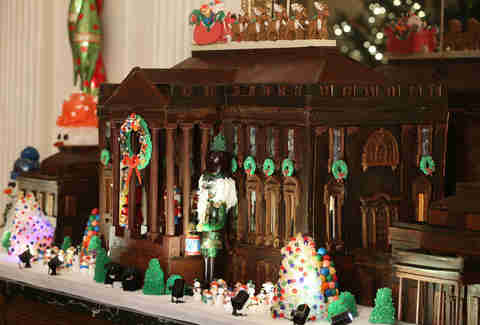 In case you're wondering, the architectural marvel is made up of a whopping 250lbs of gingerbread cookies alone. Additionally, the dark chocolate coating accounts for 150lbs, and another 75lbs of gum paste, sugar, and icing serve as both decorations and the glue that holds it all together. In total, this presidential gingerbread house contains more than 775,000 calories worth of sweets, per the report. But with 68,000 people from all around the world set to visit the White House for the holidays, it's safe to assume that plenty of people will be tasked with somehow devouring the cookie mansion. Let's just hope they've got a lot of milk on hand for the dunking.
Sign up here for our daily Thrillist email, and get your fix of the best in food/drink/fun.
Tony Merevick is Cities News Editor at Thrillist and would be happy eating just one of the North Portico columns. Send news tips to news@thrillist.com and follow him on Twitter @tonymerevick.