Usually, the brilliant Aurora Borealis (or Northern Lights) only appears near the North Pole when particles from the sun collide with Earth's atmosphere. But thanks to a new heat-sensing mug, you don't need a giant solar discharge to see the aurora's glow -- just hot coffee. Oh, and maybe some imagination.
Sold online by Think Geek, Aurora Borealis Heat Change Mug features a polar landscape that transforms into a stunning image of the Northern Lights when you fill it with hot liquid. The site's official product description makers it sound even cooler: "Much as caffeine particles pass into our bloodstream and make us bounce off walls, so, too, the particles from solar winds pass through the Earth's magnetosphere near the poles and share energy, causing a spectacular display in the upper atmosphere." We'll leave it to you to decide if the thing's worth 15 bucks, though.
Watch the mug in action right here:
Recommended Video
Top Things You Do That Annoy Baristas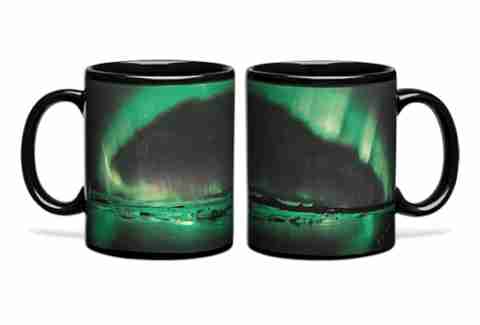 Sign up here for our daily Thrillist email, and get your fix of the best in food/drink/fun.
Tony Merevick is Cities News Editor at Thrillist and these mugs remind him of the His Dark Materials trilogy. Send news tips to news@thrillist.com and follow him on Twitter @tonymerevick.