This Guy Draws Enormous Festive Doodles with His GPS Running Trails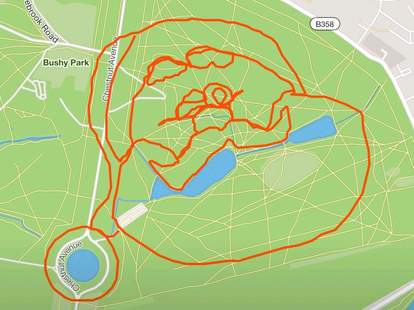 For a lot of people, running for exercise is about pushing yourself for another mile or cranking up the treadmill speed, you know, without collapsing into a heap of sweaty pain. A British man, however, somehow manages to make his jogs into art -- enormous, festive doodles painted by a GPS tracking app, to be exact.
Owen Delaney, 39, of London, said he's been running in the city's Bushy Park for more than 10 years and recently used the Strava app for runners and bikers to plot and run a route along the paths in the shape of Rudolph's face. Since then, he's used the app to create several more large-scale holiday designs, including a snowflake, Santa, Frosty, a Christmas tree, and more. Additional "drawings" are likely on the way in the days before Christmas, thanks to all the attention he's received.
"The idea came from a couple of similar runs I did two years ago for a competition," Delaney said, when reached by email on Thursday. "I thought I'd do the Rudolph one a couple of weeks ago for fun, my friends seemed to like it, so I did the Santa one the next day. It's just escalated since and had loads of attention, so I feel I can't stop now!"
Delaney has already run more than 30 miles to create the designs, according to the distance total on the 10 examples he provided (shown below). Believe it or not, planning the perfect route to achieve the designs actually doesn't take that long, thanks to the app.
"Plotting the most suitable routes probably takes 10-15 minutes each," he said. "Maybe a few hours planning in all. They haven't all come out perfectly, the planned route maps that I follow in the Strava app are much tidier than the actual maps of where I've run, but it's close enough. I haven't yet gone wrong enough on one to have to start over, but still have a few days left to go, so there's time!"
Here are some examples of Delaney's best holiday doodles so far:
Courtesy of Owen Delaney
A snowflake
Courtesy of Owen Delaney
Frosty
Courtesy of Owen Delaney
Dead Frosty
Courtesy of Owen Delaney
Rudolph
Courtesy of Owen Delaney
Sleigh
Courtesy of Owen Delaney
Christmas tree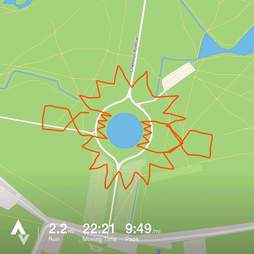 Courtesy of Owen Delaney
A cracker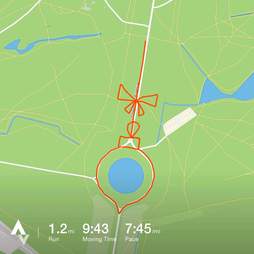 Courtesy of Owen Delaney
A bauble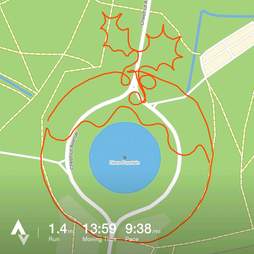 Courtesy of Owen Delaney
Pudding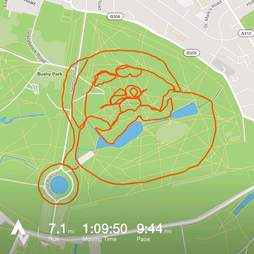 Courtesy of Owen Delaney
Santa
Well, there you have it, folks: that's a helluva way to work off all that extra holiday weight.
Sign up here for our daily Thrillist email, and get your fix of the best in food/drink/fun.
Tony Merevick is Cities News Editor at Thrillist and should really go for a run sometime soon. Send news tips to news@thrillist.com and follow him on Twitter @tonymerevick.