You Can Stay in This Taco Bell-Turned-Airbnb With a Personal Taco Butler
Thanks to all the times when you've "accidentally" eaten at Taco Bell twice in the same day, there's a good chance your local T-Bell already sort of feels like home. But it turns out you actually can live in a Taco Bell restaurant -- now that one has been transformed into a spectacular Airbnb suite. It even comes with a personal taco butler. Really.
To celebrate the nationwide launch of its new Steak Doubledillas in Canada, Taco Bell is offering the chance for you to win a "Steakcation" slumber party with up to three of your friends at its restaurant in Chatham, Ontario, according to a press release. The tricked out T-Bell features comfy chairs, a big screen TV, two sets of bunk beds, and tons of free food. In fact, the company said your own Taco Bell butler will serve you Steak Doubledillas while you hang out watching movies, playing games, and wondering how you got to this point in your life.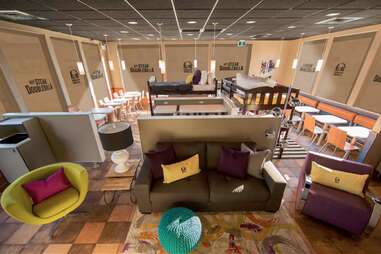 Taco Bell describes the new menu Doubledilla as spin on its classic quesadilla, with "twice the portion of marinated steak, creamy jalapeño sauce, and three-cheese blend" grilled in a flour tortilla. And while that sounds delicious, you're probably more interested in scoring a the "SteakCation," right? Well, all you have to do is head over to the official Airbnb listing page and enter the contest before the deadline on October 11th. If you win, the overnight taco party will take place on October 17th.
Oh, but fair warning, folks. Living in the restaurant for the night comes with some house rules, per the listing:
If sharing salsa, no double-dipping your chips.
Eating Steak Doubledillas in bed is not only allowed, but encouraged.
Making that squeaking sound with your straw and cup lid is annoying. Quit it.
Don't feed the Taco Bell Butler. Wait... that's not very nice. We'll leave that up to you.
Live Más
So, while winning the "SteakCation" is one thing, having to leave when the luxurious night of tacos and personal butler service ends is another. Good luck with that.
Sign up here for our daily Thrillist email, and get your fix of the best in food/drink/fun.
Tony Merevick is Cities News Editor at Thrillist and would absolutely refuse to leave. Send news tips to news@thrillist.com and follow him on Twitter @tonymerevick.