A Very Deep Conversation About the Best Stuff on Taco Bell's Menu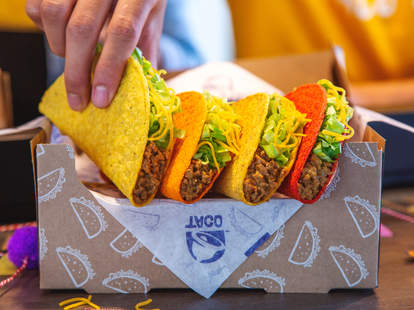 The advent of the internet has rendered so many classic bar debates suddenly useless, neutered, and unnecessary. Years ago, you could argue for hours about a topic that can now be settled with a 12-second Google inquiry. For instance, there's no need to discuss how much beer Andre the Giant could drink in one sitting: now you can find out with a data plan and a few clicks of your thumb.
But there are still some mysteries out there, that no Google search can settle. And that's where we come in.
In our new podcast, Best (and the Rest), we tackle one of these BIG questions per week. For our second episode, we're boldly going where we've honestly gone many, many times before (sometimes twice in one day!): Taco Bell.
Over the course of the episode -- listen here! -- yours truly, Senior Editor Tony Merevick, and Staff Writer Kat Thompson debate the merits of the Taco Bell menu. We'll end up with our definitive picks for "the best" thing on the menu, overall, but along the way we'll cover topics varying from "the worst thing to eat in your car," to "the discontinued menu item we desperately wish was still around."
If nothing else, it will definitely make you crave a Mexican Pizza. And... also, question what a Mexican Pizza actually is.
(We still don't know, by the way).
Sign up here for our daily Thrillist email and subscribe here for our YouTube channel to get your fix of the best in food/drink/fun.
Wil Fulton is a staff writer for Thrillist. If you told told him he could only eat one thing for the rest of his life... he'd be frightened and confused. Follow him @wilfulton.